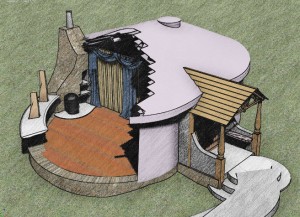 In recent months, Moniack Mhor has dedicated efforts to expanding its Schools' programme. Extra weeks are now available for residential courses; a new partnership is taking shape. The most essential of these developments, though, is Moniack's recent endeavour to provide more tutorial space for course participants.
Late in 2011, Creative Scotland granted the Centre funding to build an eco-friendly structure in the western corner of their land. Steve James of Envisioneer.net has been commissioned to create a 20' x 20' oval-shaped building with locally sourced timber, straw bale insulation and lime rendering. In every way, the structure embodies sustainability, including education practices.
During schools' courses, the new space can be utilised for supervised one-to-one tutorial sessions, keeping the house and cottage quiet for individual work time. The space also lends itself to group performances and workshops when the dividing curtain — separating two 'pods' — is drawn. Students will find room to expand their creativity. Strain on Moniack's existing facilities will be alleviated, making our work sustainable for a long time to come.
Glance through the current design drawings and pledge your support using our JustGiving page. Even the smallest amount will help bring this essential building to life!