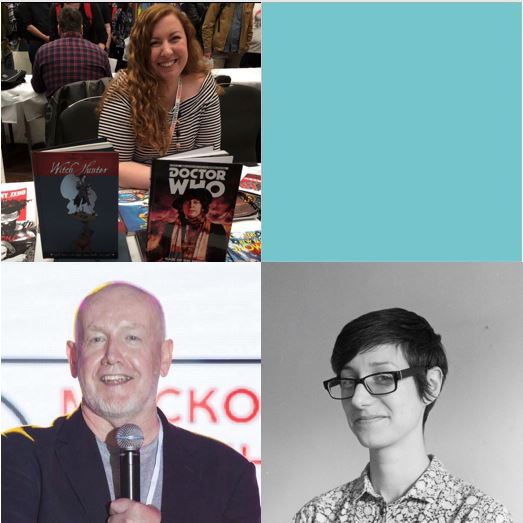 Date/Time
Date(s) - Mon 7th Oct - Sat 12th Oct, 2019
All Day
Location
Moniack Mhor, Kiltarlity, Inverness-shire , IV4 7HT
The Beginning, The Middle and The End
The beginning. What makes a comic: why comics is the most versatile visual medium for your writing, and the role of the writer and artist. Scripting: the essential rules. Creating great characters: making them memorable and visual. The middle. It's all about collaboration: how an artist approaches a script and how to work together. More than one way to tell a story: how to structure your story to work as a series, a graphic novel or a web comic.  The end. Can you have it all? Make money, do what you love and hold on to your creations? Working on existing titles vs your own original ideas. Leave them wanting more: pitching your story and how to get commissioned.
Emma Beeby is best known as the first woman to write Judge Dredd in its 40-year history. She has also written Doctor Who for Titan Comics and Judge Anderson for 2000AD. Emma was selected for the DC Comics' Writers' Workshop in 2016 culminating in writing a Wonder Woman & Catwoman team-up. Her first creatorowned series, Mata Hari, was published in 2018 by Berger Books at Dark Horse. Emma has been nominated for awards by the Writers' Guild of Great Britain and the British Comics Awards and won Best Writer and Best Newcomer in the 2015 Scottish Independent Comic Book Awards.
John Higgins is probably best known for his colour work on Watchmen. He was also involved in Before Watchmen, co-writing and illustrating 'Curse of the Crimson Corsair' in 2012. The award-winning Razorjack comic first appeared in
1999 for which he was the writer, artist and publisher; the latest chapter is in the Judge Dredd Megazine, May 2018. In 2017-18, a retrospective exhibition of John's work was shown at Liverpool University's Victoria Gallery & Museum, for which he wrote an accompanying autobiographical art book, Beyond Watchmen & Judge Dredd: The Art of John Higgins. www.artofjohnhiggins.com
Hannah Berry is the award-winning author of political satire Livestock, creeping horror Adamtine and offbeat noir Britten & Brülightly (2010 Official Selection, Festival International de la Bande Dessinée d'Angoulême). She has been a regular cartoonist for the New Statesman and Prospect and has contributed to numerous publications worldwide, including projects for First Second, Casterman, the EIBF and 2000AD. In 2017 she was elected as a fellow of the Royal Society of Literature and won the Broken Frontier Award for Best Writer.
Hannah was appointed Comics Laureate in 2018.
Please read our
Terms & Conditions
before booking.
Bursaries
are always available, and you also have the option to pay in installments, see
How to Book.
Bookings