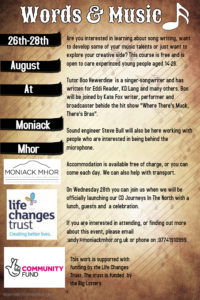 What is it? This is a residential creative writing course, based at Moniack Mhor Creative Writing Centre.
Who is it for? Young people, aged 14 – 26 who are care experienced or care leavers.
When? Monday August 26th 2019 to Wednesday August 28th 2019 (option to attend each day).
Why? It's your chance to work with two amazing tutors, both well regarded, successful writers/musuicians who will pass on their skills, tips and techniques to help you develop your creativity, write lyrics, poems or spoken word pieces about whatever you want to say.
This course is for young people aged 18 to 26 who are care experienced or care leavers. It'll be held at the Moniack Mhor Creative Writing Centre, high in the hills above Beauly, just a short journey from Inverness. At the centre, you'll have the chance to take part in some fantastic workshops lead by Boo Hewerdine and Kate Fox who'll be there to help you explore your creativity.
The course is free to attend, and we'll be able to help with your travel costs. Spaces are limited but if you'd like to come please just get in touch.
Email andy@moniackmhor.org.uk or call 07741 910 999
This work is supported with funding from the Life Changes Trust. The Trust is funded by the Big Lottery.