Writer Jacqui Millar wrote this poem, inspired by the neighbors who reside in the field next to us. She has kindly allowed us to share it with you here.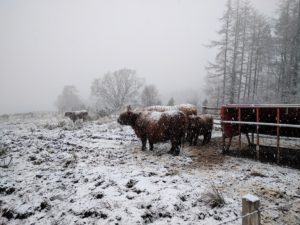 Highland Cows- Moniack 2016
It is November and the year has turned.
Coarse reed like grass
prevails over a softer undergrowth,
times are harder.
The cattle, reluctant to venture far,
huddle around the feeder,
and eyeball me through shaggy fringes.
Calm and curious.
Their warmth radiates and
invites me in
to join the younglings
hugging the flanks of their elders.
Invites me to feel the anchoring safety
of feet sinking into sticky yielding ground.
I turn and look out, and out,
to the far snow capped hills,
where I walk across bleak gullies skewered by snow,
hear long gone boots crunch in crisp snow,
echoes of laughter
and a time ambushed by infinity….
I turn back to the still, patient, gaze of the animals
and am comforted by their stoic endurance.
You can follow Jacqui on Twitter or investigate her Blog.
If you have your own piece of work written at or inspired by Moniack Mhor, we'd love to see it.