The Moniack Mhor Writers Group, led by Cynthia Rogerson, has been meeting remotely during the Lockdown. They have been writing pieces inspired by the situation. Today's is by Pam Lucas.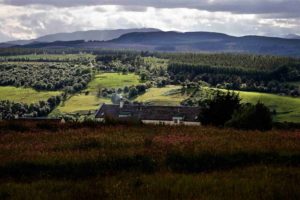 Missie the Mare Plans for Life with Corona Virus
I am Missie the Mare, and I want to talk about things from my perspective. There is much talk of a need to adjust to changing situations. I am all for that. This is a time of uncertainty for animals too, we all feel the troubled vibes.
I used to live on a farm not very far from Moniack Mhor until my person went off to university leaving me behind. I shared a field with friends and ate lots of grass – what's not to like? But the world is full of busybodies, and someone said I needed a job or I would eat myself to death, so I teamed up with Herself .  At times her aspirations can exceed what any self- respecting mare can regard as reasonable, and this can lead to the need for "discussions". Take the other day for instance.
I was minding my own business when Herself appeared.  She was talking to someone on her phone, "It's too nice a day to waste, getting out riding keeps me sane. They are felling timber above me, so Plan A is off, but over to Plan B, no traffic so I will go down the road instead".
I was feeling quite mellow and striding out, when what should come round the bend but a timber wagon! Herself waved her arm and it slowed down, but it was too shiny, too noisy and too smelly – too much altogether, and I needed time to review the situation. So I and the truck both stopped. The driver turned off the engine, it was quieter now but still hot, smelly and hissing.
"Hello, thank you very much", said Herself. "She will go past alright, just give us a minute please". The driver opened his window, said, "Good horsey", and stuck his hand out of the cab to try to stroke my face. Well, I ask you, horsey indeed, and then thrusting this meaty paw into my face! Herself was obviously making an error of judgement and needed my guidance. I decided to set off for home before the claws in the paw came out. Herself disagreed with my decision. She yanked me round and said a rude word. "Don't let the air brakes off whatever you do" she said to the driver. "No!" he said waving his empty paws and looking worried. Herself and I negotiated vigorously for another few minutes after which I agreed to go past the truck with only a token snort and bounce. Herself waved effusively to the driver and shouted, "Thank you very much for being so patient". She can be so two faced, if he had not stopped she would have bellowed at him and there would have been no smiles and waves. I think he maybe knew  that, he looked pleased as he socially distanced us.
We had a lovely trot through the forest and met a bike and dog which turned out to be Jillian (some of you know her – maker of wonderful cakes at Moniack Mhor), being herded by Wally the Collie. Great naming – he is a collie and frequently a wally. Jillian was puffing, she seemed quite glad of the chance to stop for some reason.  Wally looked pleased with himself, herding bicycles must agree with him.
When we got back down to the road, Herself said, "Let's go to Plan C and take a different  way home". I am never entirely sure about this other bit of road, it has lots of trolls that an observant and cautious horse like me needs to look out for.  But no problems today, and we had almost reached the turn off for home when there was a loud noise behind us. When I came back down to earth, this turned out to be a huge transporter full of sheep. Herself became animated again and the truck stopped. "What are the chances? What happened to no traffic?" she muttered, "Plan C – turn off now". More arm waving, then we reached refuge in the forest and headed for home.
All good fun and no harm done, but it did give me food for thought. Just in one ride we went through Plans A, B and C. Maybe tomorrow I can work us through to Plan F, which obviously means Field, which would be my suggestion for living through the time of Corona Virus  –  just saying.
Views/opinions expressed are the author's own and do not represent those of any individual from Moniack Mhor or Moniack Mhor itself. Copyright remains with the author.