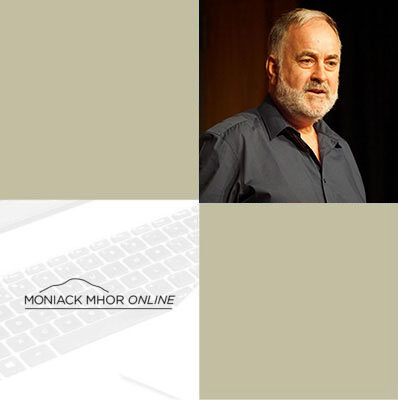 Date/Time
Date(s) - Thu 21st Oct, 2021
7:30pm - 8:30pm
Location
Online, Moniack Mhor Hosting, via Zoom,
Thoir feabhas air do chuid Gàidhlig tro aithris Sgeulachdan na Fèinne
Improve your Gaelic Fluency through telling Tales of the Fianna
This workshop consists of a series of three 1-hour virtual sessions for Gaelic learners (intermediate and above). Although the workshop will be conducted in English, participants must be able to speak, read and write basic Gaelic. This is not a workshop for beginner learners.
The purpose will be for each participant to tell their own 5-minute Gaelic story in Session 3. The material in the workshops will be drawn largely from the corpus of Fianna tales in Scottish Gaelic, but participants will be able to tell a story of their own choice – or they may write one if they wish.
The tutor, Ruairidh Maclean – author, broadcaster, educator, storyteller – will guide participants through sources of materials and how best to use those materials to suit their own fluency and capabilities as tellers of tales, as well as considering the capabilities and knowledge of their audience. He hopes to demonstrate how engagement with this pivotal part of Scotland's cultural heritage can be an important tool in bringing a learner towards fluency in the language as well as encouraging the maintenance of the Fianna tale tradition.
This series of workshops will be delivered online and is limited to 10 participants.
Workshop Dates
Thurs 21 Oct 2021 1930-2030
Thurs 28 Oct 2021 1930-2030
Thurs 04 Nov 2021 1930-2030
We are also running a two-part workshop for fluent Gaelic speakers: click here for more information.
Tha Ruairidh MacIlleathain na chraoladair, ùghdar, oide agus sgeulaiche, stèidhichte ann an Inbhir Nis. Chruthaich e, agus bidh e a' lìbhrigeadh, dà phrògram rèidio seachdaineil airson luchd-ionnsachaidh na Gàidhlig air BBC Radio nan Gàidheal. Bhuannaich an nobhail aige Còig Duilleagan na Seamraig Duais Dhòmhnaill Meek ann an 2018 agus bha i air a' gheàrr-liosta airson Leabhar Ficsein na Bliadhna aig Comann Crainn na h-Alba ann an 2019. Sgrìobh e grunn leabhraichean air ainmean-àite air a' Ghàidhealtachd agus tha e air iomadh cùrsa a ruith air feadh Alba mu shealladh nan Gàidheal air an tìr agus nàdar. Tha ballrachd aige ann am Forum Sgeulaichean na h-Alba agus bha ùidh aige bho chionn fhada ann am mòr-sgeulachdan nan gaisgeach. Chuir e fhèin agus a mhac, Calum, làrach-lìn ùr (gaisgeach.com) air dòigh am-bliadhna air a bheil fichead sgeulachd a ghabhas luchdadh a-nuas, agus a th' air an aithris ann an Gàidhlig an latha an-diugh.
Roddy Maclean (Ruairidh MacIlleathain) is a broadcaster, author, educator and storyteller, based in Inverness. The creator and presenter of two long-running programmes for Gaelic learners on BBC Radio nan Gàidheal, Roddy is a published author whose novel Còig Duilleagan na Seamraig won the Donald Meek Award in
2018 and was shortlisted for Fiction Book of the Year in the 2019 Saltire Awards. He is the author of several publications on Highland place-names, and has run many courses and workshops around Scotland about the Gaelic interpretation of landscape and nature. He is a member of the Scottish Storytelling Forum and has a long-standing interest in the ancient hero tales belonging to Gaelic tradition. He and his son Calum recently created a website (gaisgeach.com) which hosts twenty downloadable stories, retold in accessible modern Gaelic.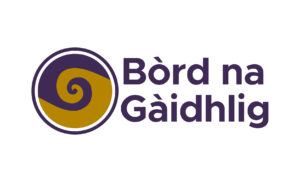 Le taic bho Bhòrd na Gàidhlig
With support from Bòrd na Gàidhlig
Please note, we can offer a small number of subsidised spaces for this workshop via our bursary scheme. If you experience a financial barrier to attending this event, please email us to discuss options at info@moniackmhor.org.uk.
Bookings
This course is now fully booked. Please contact us on info@moniackmhor.org.uk or 01463 741 675 to be added to the waiting list.