Moniack Mhor are excited to announce our brand new, three year programme of creative activity and development for care experienced young people!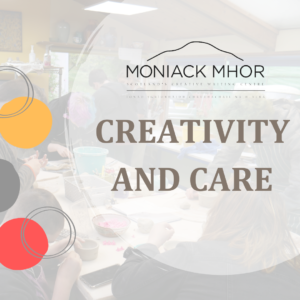 Working in partnership with the Calman Trust, the Abriachan Forest Trust, and the Articulate Cultural Trust, Moniack
Mhor will lead the programme, which offers creative and other development opportunities for young care experienced people in Scotland, aged 14 – 30 years old.

The project will consist of an exciting programme of creative activity over the next three years. This will also include individual grants for groups and young people to deepen and focus their creative practice. The programme is led by 'Mhor Creative', our Advisory Group made up of care experienced young people, who lead on the decision making and direction of the programme. Currently, the group consists of around 10 young people from across Scotland.
It's going to be a fantastic three years and we hope you're as excited as we are! Stay tuned for updates on social media:
Facebook: Young Moniack
Twitter: @YoungMoniack
Instagram: youngmoniack
Please do get in touch with us if you are interested –
Email: creativityandcare@moniackmhor.org.uk
You can also reach the team at 01463 592828