…A place of rare space and weather-wildness and beauty. Something magical and good always happens here.

Ali Smith
Moniack Mhor has a past steeped in stories. A former croft, it is built on the site of an ancient baron's house, surrounded by fields rich in the remains of Bronze Age civilisations. Its conversion into a haven for writers began in 1992, when founders Kit and Sophia Fraser led fundraising efforts including a 24-hour poetry recital by almost 160 people. From its first course in 1993, Moniack Mhor operated in partnership with Arvon until 2014. In 2015 it transitioned to independence with the support of Creative Scotland, who continue to support Moniack Mhor with grant funding as one of its regularly funded organisations.
Our programme supports writers working at all levels. We place equality and accessibility at the centre of all our work, including offering a bursary scheme for individuals to whom fees may present a barrier. We also run several  awards  and fellowships to support both emerging and professional writers.
Have a look at previous courses and tutors and writers who credit Moniack Mhor as having helped them on their way.
Patrons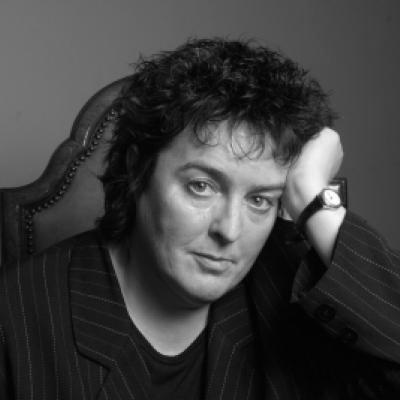 For me to be asked to be a patron of Moniack Mhor Writing Centre is a triple delight and honour. Moniack Mhor's location is wild and 'islanded', its staff and ethos are warm (log fires) and welcoming (full larders), and it is Scotland's first Independent Writing Centre. Three fine essentials for literary exploration and inspiration whether author, tutor or student.

Mairi Hedderwick, Patron
I am delighted to be a patron of Moniack Mhor. I've had many years of inspiration from the surrounding land and the magical house, the big bothy and the wee croft. Moniack Mhor is a special place which firmly helps people on their imaginative and creative journeys. The road forks and it stops at Moniack. Down the short hill, the vista opens. I'm proud to be involved in a place that makes things possible for so many different people from all over the world.

Jackie Kay, Patron
Who We Are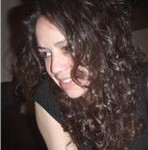 Funding
Moniack Mhor's work would not be possible without the support of Creative Scotland.
We are grateful for previous support from the following organsiations:
The Gannochy Trust www.gannochytrust.org.uk
The Robertson Trust www.therobertsontrust.org.uk
Scottish Natural Heritage www.snh.gov.uk
The Highland Council www.highland.gov.uk
Highlife Highland www.highlifehighland.com
The CPF Trust
The Beechgrove Garden www.thebeechgrovegarden.com
Scottish Book Trust – Live Literature Funding www.scottishbooktrust.com/live-literature-funding
Support Us
Moniack Mhor is a registered charity that delivers its programme through a combination of course income, grant funding and donations Our aim is to make opportunities for people of all ages and from all walks of life to participate in creative writing, by providing space, inspiration and tuition from leading writers.
There are many ways to support our ongoing work and all donations, no matter how large or small are greatly appreciated.
If you would like to make a longer term commitment you can join our Friends' Scheme.
If you are interested in donating towards a specific scheme or development at the centre, or leaving a legacy to Moniack Mhor, please contact the Centre Director on 01463 741 675 or friends@moniackmhor.org.uk
If you wish to make a one off donation, including during COVID-19, please do so here:
Donations go directly to supporting our bursaries which enables individuals from all walks of life to benefit from our writer development programme. Your donation will also support projects with groups who may experience a barrier to the creative writing process or go towards vital improvements at the centre. Thank you for your support.
If you would like to add gift aid to your donation, please download the form below and post it to us.
Our Centre
Moniack Mhor is located in the Scottish Highlands, at the top of the hill between the communities of Abriachan and Foxhole. The homely centre comprises the main house (a converted steading), the cottage (a traditional croft house), the straw bale studio and an extensive garden. With panoramic views taking in Glen Strathfarrar, Glen Convinth, Ben Wyvis and beyond, Moniack Mhor provides an inspirational setting to progress your writing.
Our supportive staff create a nurturing atmosphere for all, while our surrounding natural environment provides an invigorating backdrop for exercise as well as peaceful relaxation.
Facilities
For full information on access at Moniack Mhor, see Access.
• 10 single rooms
• 2 twin rooms (one in cottage)
• 2 ensuite rooms (cottage – only on untutored retreats)
• WiFi (in house and cottage)
• Printer/photocopier
• 3 laptops to borrow
• 3 bikes for student use
• Yoga mats
• Tutor books for sale
• Maps and books on the local area
• Fiction and poetry libraries
• Vegetable, herb and fruit gardens in season
• Drystone storytelling circle with firepit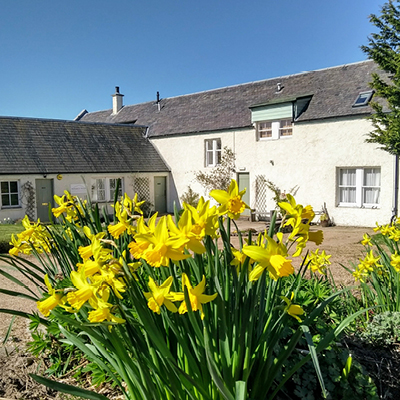 Main house
The main house, a cosy converted steading, provides simple yet comfortable accommodation on two floors. Every room has a single bed and a writing desk. Most rooms provide a view of the landscape. There are four bathrooms (shared), two on the ground floor, including a wheelchair-accessible wet room. Workshops and meals usually take place in the living/dining room downstairs, which is adjoined by our homely farmhouse kitchen.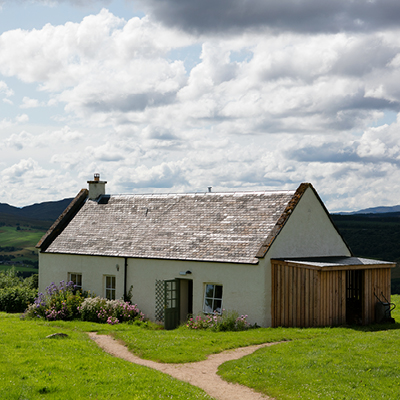 Cottage
The cottage is the original croft house at Moniack Mhor. It has two ensuite bedrooms upstairs which provide accommodation for our tutors, and a downstairs twin guest bedroom with adjacent shower-room for course participants. Ensuite cottage rooms are available to book only on untutored retreats, and also may be available to writing fellows and during residencies. The cosy living room/kitchenette offers a relaxed space for one to one tutorials, and also houses our poetry library.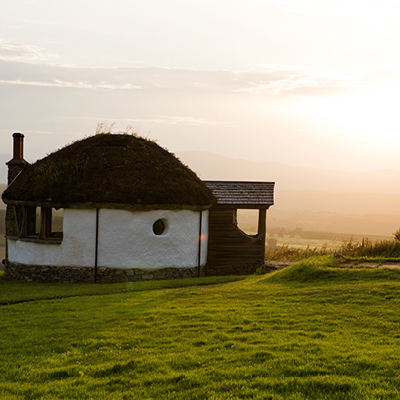 The Straw Bale Studio
Our eco-friendly straw bale studio is used for one-to-one tutorials, some workshops and guest readings. Outwith these times, the studio can be used as a quiet space for reading, writing or yoga.
In 2013 we fundraised to support the build, receiving generous funding from Creative Scotland, The Gannochy Trust, The CPF Trust and The Robertson Trust, and many kind donations from individuals.
The building has environmental sustainability at its heart: using a passive solar heating system, solar-powered electricity, turf roofing and straw bale insulation.  Steve James of  Envisioneer.net  was our project manager and builder.
Garden
The acre of rough land surrounding the buildings of Moniack Mhor was transformed into a garden in 2013. As well as providing inspirational views, our garden offers the following: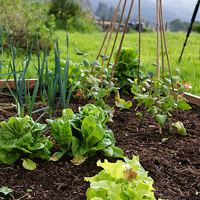 • Drystone storytelling circle with firepit for sharing tales under the stars
• Alpine rockery
• Colourful planting around the main entrance, rear and cottage
• Packed gravel paths for access around the garden
• Timber benches for quiet reflection
• A patio area at the entrance to the building
• Native trees and plants
• A pond
• Vegetables, herbs and soft fruit in season

The garden is open to the public outwith course times.
Sustainability and the Environment
At Moniack Mhor we put care for the environment at the centre of
everything we do. While we're located in a beautiful and inspirational setting, we also care about the wider environment and our impact on it. Where our activities impact on the global environment we aim to be respectful, tread lightly and ensure we have minimal impact.
We are moving to reduce our carbon footprint in line with Creative Carbon Scotland's guidelines, which in turn reflect the Scottish government's target (75% reduction in carbon emissions by 2030).
To reduce waste and energy consumption in and around our buildings we take a number of measures.
In the garden, we have vegetable beds which produce ingredients for our lunches – lettuces, spinach and leeks and our fruit beds provide raspberries and blackcurrants for breakfasts and puddings. We have a designated composting area for food waste from our kitchen and do our best to minimise packaging and other waste where we can.
Indoors we are gradually reducing printing, packaging and general energy use and since 2018 we have ceased to use coal for the stoves.
Our off-grid straw bale studio (otherwise known as the Hobbit House) encapsulates our ethos. It was built using locally sourced materials with an on-site workforce, including volunteers from the local community. For more information please see our feature on the Green Arts Initiative website – https://www.creativecarbonscotland.com/resource/case-study-the-straw-bale-studio-at-moniack-mhor/
LIKE TO HELP?
You can help us by composting uncooked food waste, recycling and turning off lights when not in use.
If you are coming to Moniack Mhor, please consider coming by public transport. You
can join our group taxi on the Monday at 5pm from Inverness Railway Station, helping
to do you bit to reduce emissions (and hopefully saving some cash as well!).
To arrange this please contact info@moniackmhor.org.uk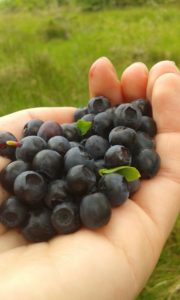 For green travel options please explore the following:

If you have any ideas or suggestions on how we can further improve our sustainability,
please don't hesitate to get in touch:
Email Kit Spink at kit@moniackmhor.org.uk