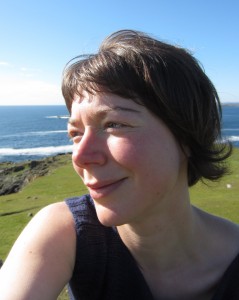 We are delighted to announce Jen Hadfield as the 2014 Dr Gavin Wallace Fellow.
We are proud to host the second Dr Gavin Wallace Fellowship. This annual award was established in 2013 by Creative Scotland to honour Dr Gavin Wallace for his stoic passion and commitment to supporting the Scottish Literature Community. The residency will offer Jen the opportunity to receive mentoring, attend courses, lead workshops and use the writing centre as a retreat space.
During the Fellowship Jen is proposing to develop work in either poetic or short story form using the idea of flotsam and jetsam, to explore themes of place and identity.
Jen said, "I'm really grateful to have been appointed the 2014 Gavin Wallace Fellow: it's a responsibility, and a privilege, and a heart-leap.
"I want to use the Fellowship to research and write about who and what washes up in Shetland, as well as to ask folk – Shetlanders and incomers – what they make of this place and of their relationship to the rest of the world.
"Gavin was immensely supportive to me in the past, and I'm really grateful to his family, and to Creative Scotland, and the Fellowship's hosts at Moniack Mhor, for giving me this opportunity to read and write and travel and learn."
.
Centre Director, Rachel Humphries, said: "The whole selection process was inspiring and submissions were of high literary quality, demonstrating the health of contemporary Scottish literature. It was certainly a challenge to compile a short list from such a strong body of work.
"Jen's ideas were outstanding, her project created an evocative sense of the themes. Her writing is both imaginative and intuitive and we are delighted to be able to support her over the next year. I'm sure that with Jen's talent and professionalism she will create a work of beauty."
Jenny Niven, from Creative Scotland said:  "The marriage of Jen Hadfield's beautiful poetry, as rooted in Scotland's unique landscape as it is, and Moniack Mhor, among the most inviting and inspiring of residency opportunities anywhere, is a wonderful pairing.
"Jen takes up the fellowship at an exciting time in her career as one of our leading poets, just as Moniack Mhor go forth with a refreshed vision and a newly independent spring in their step. We look forward very much to seeing the results for both, and I have no doubt Gavin would have approved wholeheartedly."