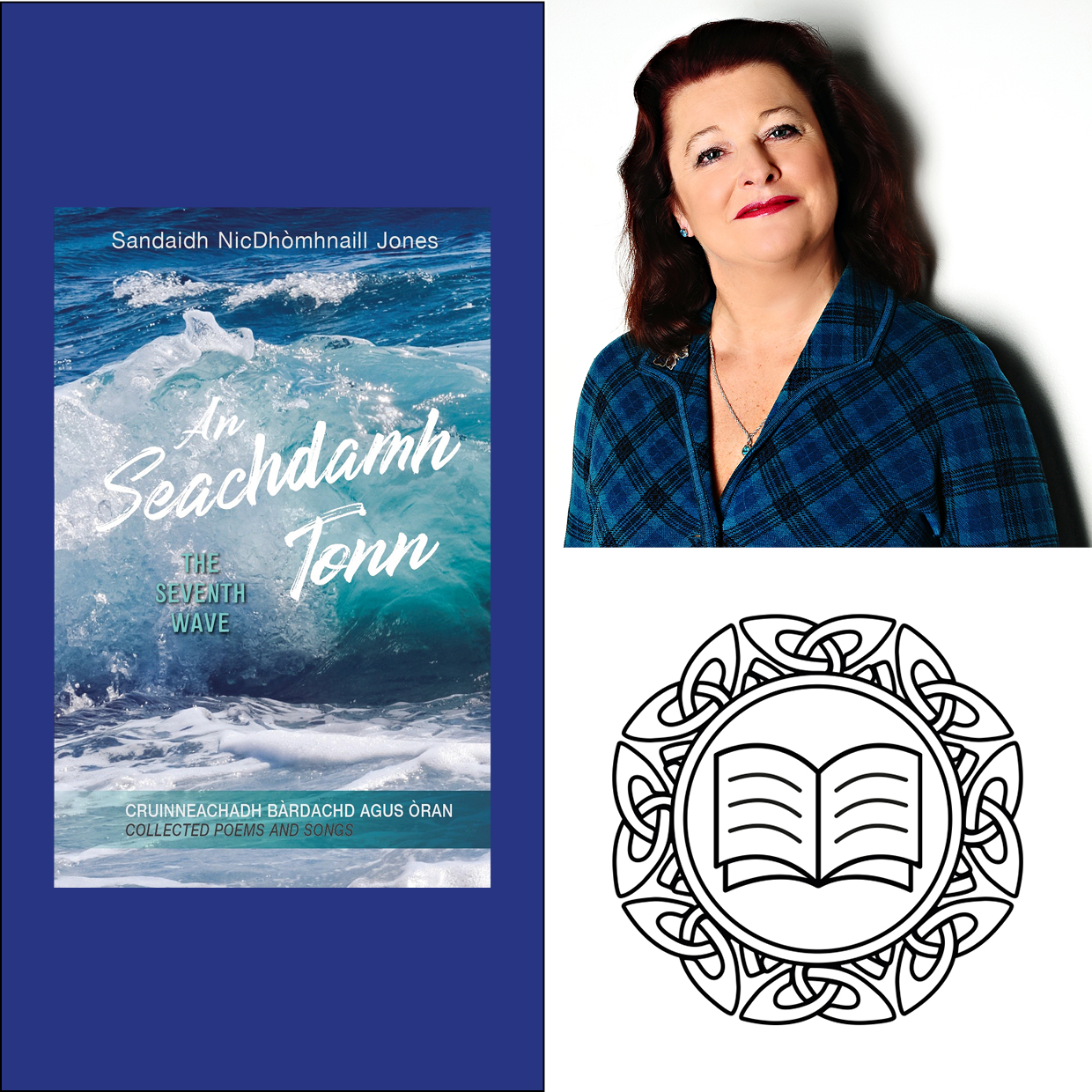 Date/Time
Date(s) - Wed 2nd Feb, 2022
11:00am - 11:45am
Location
Online, , ,
Listen to Sandaidh NicDhòmhnaill Jones introduce and read from her collection An Seachdamh Tonn, longlisted for the 2021 Highland Book Prize, in the first of our online Poetry Mornings. This event will also include a short Q&A session with the author.
An Seachdamh Tonn – The Seventh Wave
A bilingual collection of fifty poems in Scottish Gaelic and English, fifteen of them also set to music as songs.  They present a variety of styles and poetic forms, and address subjects ranging from traditional Gaelic subjects, European literature, nature, politics and women's lives.
(Acair Books, 2021)
Sandaidh NicDhòmhnaill Jones held the honorary position of Bàrd a' Chomuinn – Gaelic Crowned Bard – from 2019 to 2021.  She has written three bilingual collections of poetry and songs: 'Crotal Ruadh – Red Lichen' 2016 and 'An Seachdamh Tonn – The Seventh Wave' 2021, both published by Acair; and 'The Most Enduring Saint's Fable', published by Sallan in November 2021. She won the Wigtown Gaelic Poetry Prize 2013; the 'Choirnéil Uí Néill' Prize 2014; and second prize in the Donald Meek Award 2016.  She is also a singer, composer, harpist and Mòd Gold Medallist.
---
All events are free, with the option to give a donation of £4.00, £8.00, or £12.00 on a 'pay as you can' basis. Booking is required.
All donations go towards supporting the ongoing work of Moniack Mhor. Registered charity no. SC030292.
---
This event is brought to you as part of a series celebrating the 2021 Highland Book Prize longlist. Moniack Mhor will be running sessions throughout February with longlisted writers, including workshops, poetry mornings, and in-conversation talks. All will be delivered via Zoom and supported by a member of the Moniack Mhor/Highland Book Prize team. Click here to view the full programme.

Our thanks go to the William Grant Foundation who provide funding to encourage public engagement with the Highland Book Prize.
Please read our
Terms & Conditions
before booking.
Bursaries
are always available, and you also have the option to pay in installments, see
How to Book.
Bookings