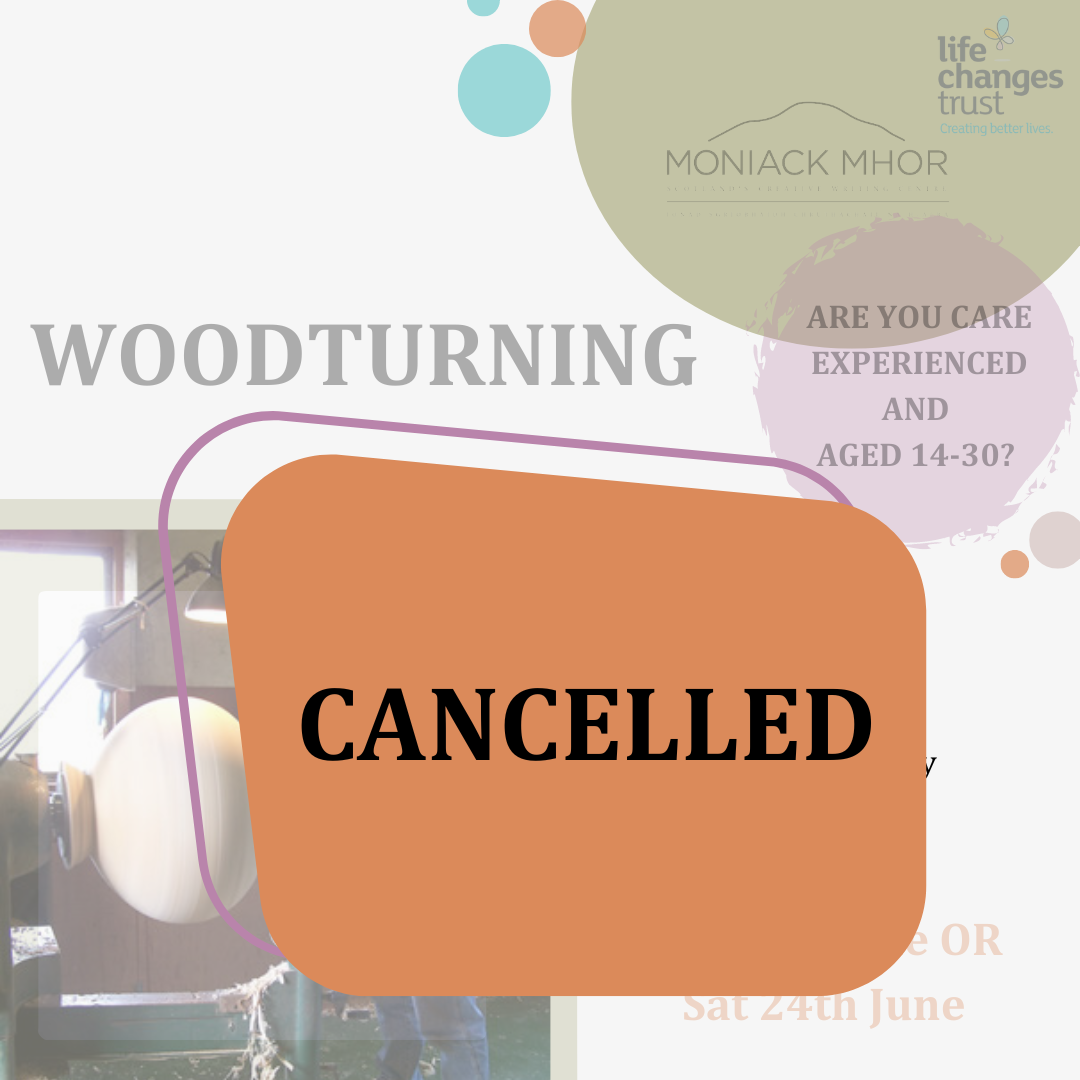 Date/Time
Date(s) - Fri 23rd Jun - Sat 24th Jun, 2023
All Day
Location
The Old Smiddy, Ballinluig, Pitlochry, Perthshire, PH9 0LG
A Creativity and Care Event
DUE TO UNFORSEEN CIRCUMSTANCES, THIS TASTER HAS UNFORTUNATELY BEEN CANCELLED. WE APOLOGISE FOR ANY INCONVENIENCE CAUSED. PLEASE FEEL FREE TO EMAIL US IF YOU HAVE AN ENQUIRY. 
Are you Care Experienced and aged 14-30?
Come along for a FREE one day taster!
Join Angus Clyne at his Pitlochry workshop, where he will teach you all about woodcraft and how to use his machinery. This is a unique creative opportunity to experience a hands-on session from one of Scotland's top woodturners!
And best of all, anything you make is yours to take home!
There are very limited spaces available for each day (Friday 23rd June, and Saturday 24th June). Please choose one of these options. Bookings are open below!
Please e-mail any enquiries to Charlotte and Vicky at:
charlotte@moniackmhor.org.uk
vicky@moniackmhor.org.uk
Or you can call the Creativity and Care team on: 01463 592828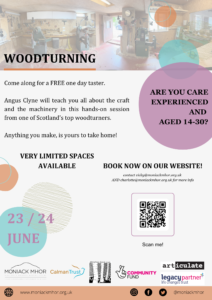 KEY INFORMATION:
WHEN: 23rd June OR 24th June 2023
WHERE: The Old Smiddy, Ballinluig, Pitlochry, Perthshire, PH9 0LG
COST: Food and workshop will be FREE, with any travel costs covered too!
From Angus:
"In my workshop I have three top of the range Hegner VB36 bowl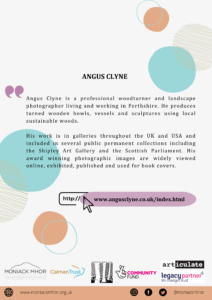 turning lathes. All turning is done using green wet wood. Green wood is easy to work with little or no dust. I supply everything used during the day including lunch, tools and wood, safety visor, gloves & dust mask for sanding. We stop regularly for breaks.
On a one day bowl making course there is an introduction to the workshop, lathe, tools and how to work safely. How to stand correctly at the lathe while turning wood with minimum effort.
In the morning we will learn easy cutting techniques with a bowl gouge. How to work safely and develop tool control while making simple shapes, usually a wooden ball and spinning top. After lunch we will make a bowl around 30cm diameter from wet wood. The bowl will be sanded by students. All completed work can be taken home."
Find out more about the course at: http://www.angusclyne.co.uk/tuition.html
The Life Changes Trust was established by The National Lottery Community Fund in April 2013 with a ten year endowment of £50 million to support transformational improvement in the quality of life, well-being, empowerment and inclusion of three key groups in Scotland: people living with dementia, unpaid carers of those with dementia and young people with care experience. The Trust concluded their ten year tenure in March 2022.  Moniack Mhor is a formal legacy partner of the Life Changes Trust.
Bookings
This course is now fully booked. Please contact us on info@moniackmhor.org.uk or 01463 741 675 to be added to the waiting list.