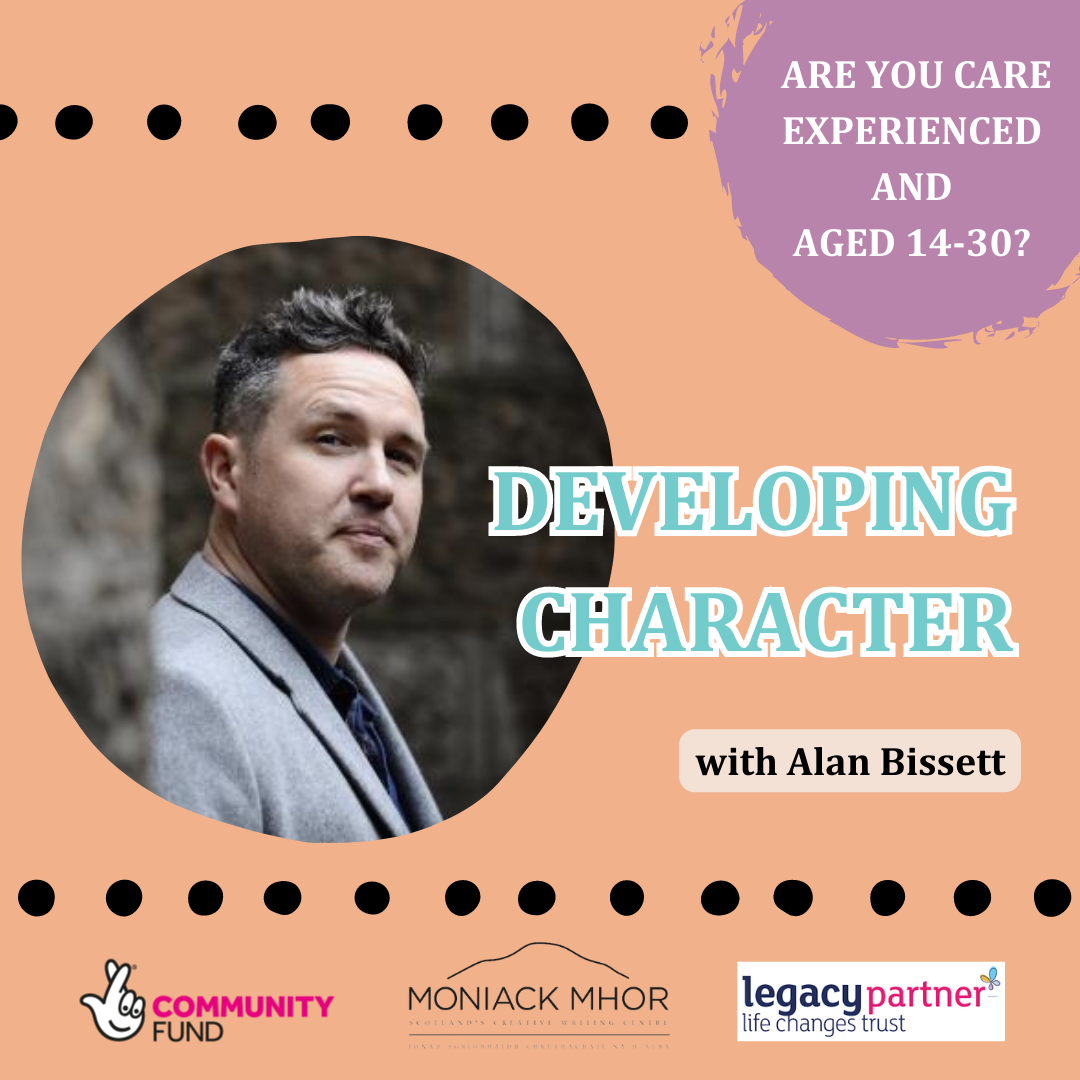 Date/Time
Date(s) - Sat 23rd Sep, 2023
10:00am - 4:00pm
Location
Moniack Mhor, Kiltarlity, Inverness-shire , IV4 7HT
Are you care experienced and aged 14-30?
Join Alan Bissett for a day session on developing character!
This workshop will look at what makes an interesting character that people want to read about.  We will look at examples of great characters from fiction and film (and real life), looking at their virtues and their flaws, and the dramas which other writers chose to put them in.  Then we will start to create characters of our own, giving them different dimensions, before trying to think up great situations to put them in, which will test them, and make the reader want to find out what happens to them next.  If you are at all interested in people-watching, now is the time to put it to good use!
Please e-mail any enquiries to Jon and Vicky at:
jon@moniackmhor.org.uk
vicky@moniackmhor.org.uk
Or you can call the Creativity and Care team on: 01463 592828
WHAT'S INCLUDED:
Lunch
Writing Materials (do feel free to bring your own!)
ABOUT ALAN:
ALAN BISSETT is a novelist, playwright and performer from Falkirk, who now lives in Renfrewshire.  He is the author of the novels Boyracers, The Incredible Adam Spark, Death of a Ladies' Man and Pack Men.  His most well-known works for the stage include his award-winning trilogy of plays The Moira Monologues, about 'Falkirk's hardest woman'.  He has also written for television and radio, as well as presenting the BBC documentary Inside the Mind of Robert Burns.  His most recent work is the Choose Your Own Adventure book for adults, Lazy Susan, and he is currently working on his fifth novel, about witches.  His first non-fiction book Lads: A Guide to Consent and Respect, a guide for teenage boys about relationships with girls, will be published in August 2023.

Alan has worked extensively in schools and with young people for the last twenty-five years and is passionate about helping them approach literature and creative writing.
Bookings open below!
The Life Changes Trust was established by The National Lottery Community Fund in April 2013 with a ten year endowment of £50 million to support transformational improvement in the quality of life, well-being, empowerment and inclusion of three key groups in Scotland: people living with dementia, unpaid carers of those with dementia and young people with care experience. The Trust concluded their ten year tenure in March 2022.  Moniack Mhor is a formal legacy partner of the Life Changes Trust.
Bookings
This course is now fully booked. Please contact us on info@moniackmhor.org.uk or 01463 741 675 to be added to the waiting list.