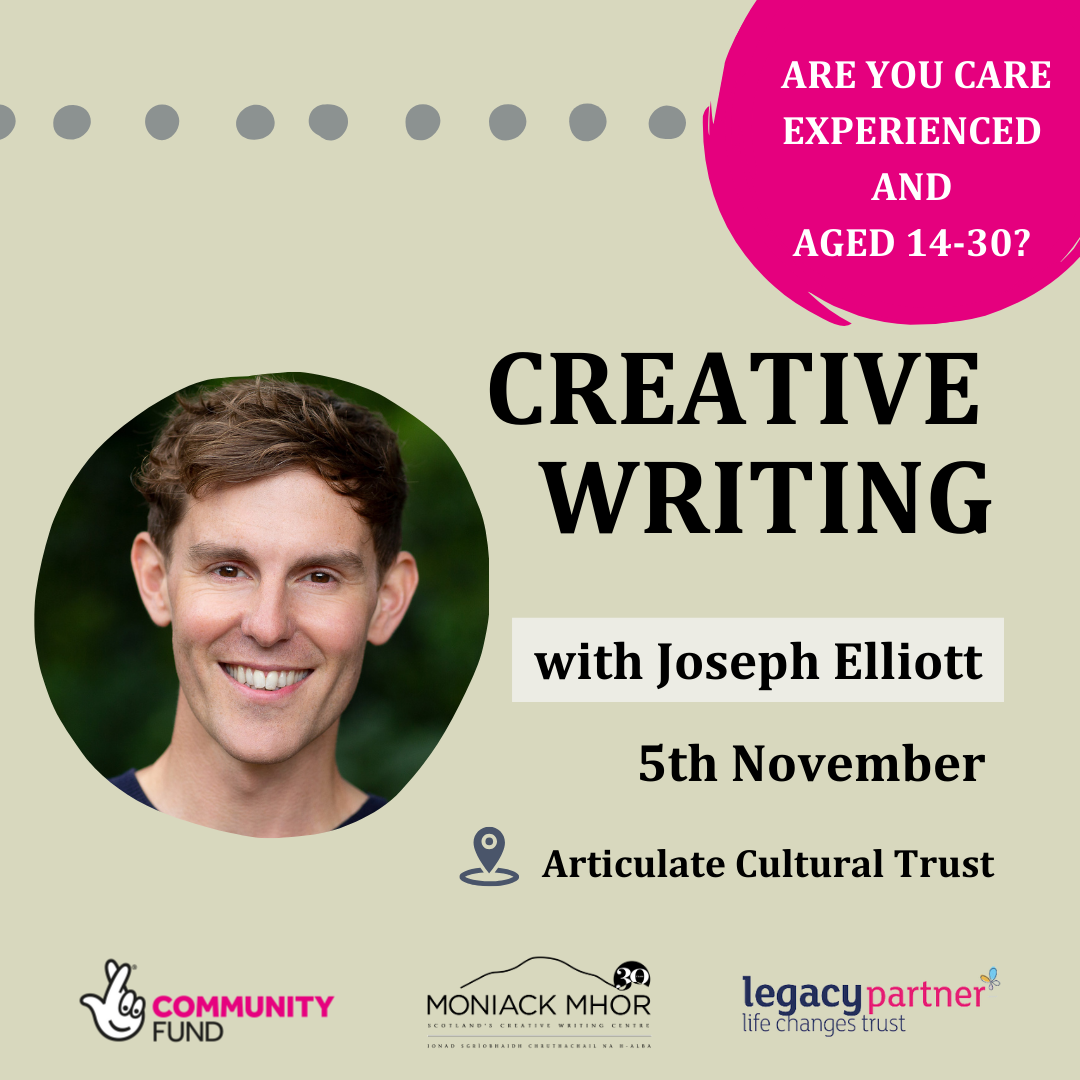 Date/Time
Date(s) - Sun 5th Nov, 2023
3:30pm - 5:30pm
Location
Articulate Cultural Trust, Glasgow, , G2 4QE
Are you care experienced and aged 14-30?
Join Joseph Elliott for a FREE creative writing workshop!
This workshop is a fun and informal introduction to creative writing, with an emphasis on trying new things and allowing ourselves to get things wrong! We'll begin with some simple exercises to help switch off the logical side of the brain, allowing creativity to flow. I'll discuss my own process as an author, and we'll look at various aspects of creative writing including character, dialogue and conflict.
Next, we'll look at some film scripts to learn how to write convincing dialogue, before creating our own scenes inspired by superheroes.
Finally, we'll learn how to craft an enticing opening, and then use prompts to write the beginning of a new story.
No experience necessary!
Please e-mail any enquiries to Vicky and Edel at:
edel@moniackmhor.org.uk
vicky@moniackmhor.org.uk
Or you can call the Creativity and Care team on: 01463 592828
WHAT'S INCLUDED:
JOSEPH ELLIOTT:
Originally from Bristol, Joseph studied English Literature and Drama at the University of Manchester, before doing an MA in performance at Central School of Speech and Drama. For the last fifteen years, he has worked as an actor, predominantly in comedy and children's television. He is best known for playing pirate 'Cook' in the BAFTA-winning CBeebies series, Swashbuckle, for which he also wrote many of the scripts.

In 2020, he co-created, wrote and starred in Big Fat Like, a comedy sketch show commissioned by the BBC, which parodies the bizarre world of YouTube. He is also part of the scriptwriting teams for The Amelia Gething Complex, Class Dismissed, and Horrible Histories.

Joseph's debut novel, The Good Hawk, was published by Walker Books UK and Walker US in 2020. It was nominated for the CILIP Carnegie Award, longlisted for The Highland Book Prize, and won Best Middle Grade at the 2021 Audie Awards. It was also named a 'Book of the Month' by The Guardian and a 'Book of the Year' by The Times. It was followed by the sequels The Broken Raven and The Burning Swift, which complete the Shadow Skye trilogy. Joseph is also the author of the short story 'Bag For Life', which was turned into a short film by Reckless Kid Films.

When not writing or acting, Joseph loves painting, pottery, snorkelling and playing board games.
You can find him here:
Bookings open below!
The Life Changes Trust was established by The National Lottery Community Fund in April 2013 with a ten year endowment of £50 million to support transformational improvement in the quality of life, well-being, empowerment and inclusion of three key groups in Scotland: people living with dementia, unpaid carers of those with dementia and young people with care experience. The Trust concluded their ten year tenure in March 2022.  Moniack Mhor is a formal legacy partner of the Life Changes Trust.
Bookings
This course is now fully booked. Please contact us on info@moniackmhor.org.uk or 01463 741 675 to be added to the waiting list.