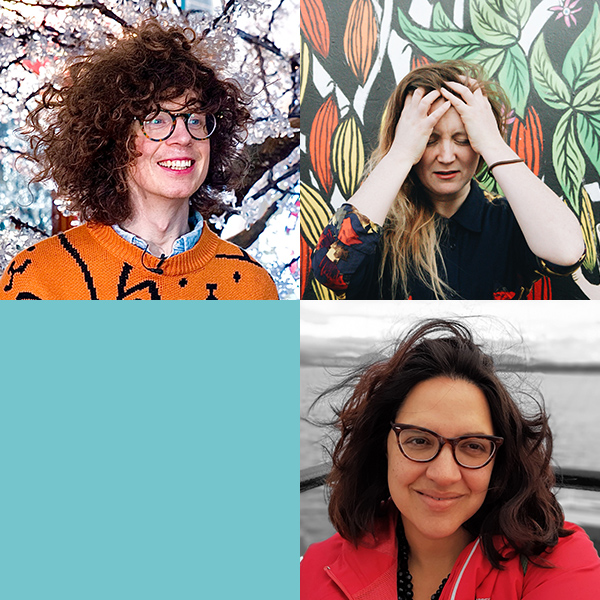 Date/Time
Date(s) - Mon 25th Apr - Sat 30th Apr, 2022
All Day
This trio of experienced and excitable tutors welcome you to come read, write and speak all things poetry. Alongside performances and discussion using their own work, they'll delve into poems from the likes of Edwin Morgan, Hera Lindsay Bird, Jackie Kay, Ocean Vuong, Wendy Cope & more to give you a week-long deep dip into conceiving, writing, editing and painlessly (we promise!) sharing your words with others, whether spoken aloud or inked onto the page. Suitable for poets of all levels of confidence and craft. Hannah will join us mid week to host a guest workshop and evening reading. 
Hollie McNish is a poet based between Glasgow and Cambridge. She won the Ted Hughes Award for New Work in Poetry for her poetic parenting memoir – Nobody Told Me –  of which The Scotsman stated 'The World Needs this Book'. She has published three further collections of poetry – Papers, Cherry Pie, Plum – a play relating the history of UK women's football – Offside – and her latest poetic memoir – Slug…and other things I've been Told To Hate – is a Sunday Times Bestseller. She has just completed a re-imagining of Sophocles' Greek Tragedy Antigone. She loves writing.  
Michael Pedersen is a prize-winning Scottish poet, writer, animateur. He has published two highly acclaimed collections of poetry with Polygon Books, and has a prose debut, Boy Friends, forthcoming with Faber & Faber in 2022. Pedersen was awarded the John Mather Trust Rising Star of Literature 2014, and a 2015 Robert Louis Stevenson Fellowship. He's had work anthologised by the likes of Pan MacMillan and Canongate Books, and was a finalist for the 2018 'Writer of the Year' at The Herald Scottish Culture Awards. He also co-founded and has co-captained literary collective/event producer Neu! Reekie! for the past ten years. https://www.lewinsohnliterary.com/michael-pedersen 
Hannah Lavery is an award-winning poet, playwright, performer and Makar of Edinburgh. She is also an associate artist with the National Theatre of Scotland. Her recent play, Lament for Sheku Bayoh was part of the Edinburgh International Festival and her poetry film, Thirteen Fragments premiered as part of Royal Edinburgh Society's Curious Festival. Her debut pamphlet, Finding Seaglass was published by Stewed Rhubarb Press in 2019 and her debut collection, Blood Salt Spring will be published by Polygon in 2022 and in partnership with National Theatre of Scotland and Push the Boat Out Festival is in development as film and spoken word show. Hannah is also an experienced workshop facilitator and mentor and received the Creative Edinburgh Leadership Award in 2020, for her work with the Writers of Colour Writing Group and for curating and directing a film poetry series, Sorry, I Was On Mute, for Fringe of Colour. 
---
If you want to attend a course with a family member, or someone within your extended household please do let us know and we can arrange use of our former twin rooms. These are available at £600 per person.
Bookings