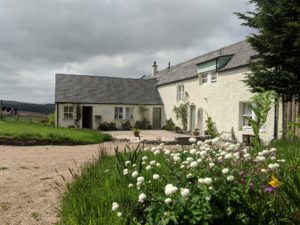 Update 9 June 2020: Due to the ongoing impact of COVID-19, our programme will be under constant review over the forthcoming months. This may mean that projects run for a limited time or conditions may have to alter to adjust to the changing landscape we are working in. If your course or retreat is affected we will contact you directly.
During this time, our Moniack Mhor Online programme may help inspire you. Please also consider if you could help to support the continuation of our work. Thank you.
Original statement: Moniack Mhor has been closely monitoring the situation surrounding COVID-19 and have made the difficult decision, following the current government advice, to cease running our residential courses until at least April 27th 2020. It is with great sadness that we make this decision but for the health of our staff and visiting writers we can see no other approach at this point.
We will shortly be emailing all writers due to visit us to discuss options including transferring to a course/retreat later in the year, providing refunds or converting course fees into gift vouchers to be redeemed at a later point.
All staff are now working remotely, so please be aware that it may take us a little longer than usual to respond to your email or enquiry at this time. We will be checking answer phone messages regularly and encourage you to email us at info@moniackmhor.org.uk
As government guidance changes, we will continue to review our position on a weekly basis. If closure of residential courses is likely to be for a prolonged period of time, we will contact you with as much notice as possible to discuss options or alterations to your course/retreat.
We will be thinking creatively over the forthcoming weeks and hope to be able to offer alternative ways of providing creative writing tuition in the short term. More than ever, we feel it's crucially important to continue to offer tuition for writers and to support the literature community where we can.
Thank you so much for your support, patience and understanding at this challenging time. We look forward to welcoming you to Moniack Mhor soon.