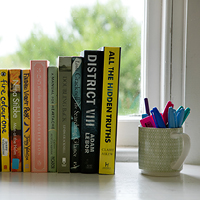 Tutored courses start on a Monday evening with a welcome talk from staff at 6.30pm who will then join you for a meal. Your two tutors will lead an introductory session after dinner. Tutored Courses usually include workshops each morning from one or both of your tutors. A buffet lunch is provided at 1pm. Afternoons provide time free to write or explore the surroundings, as well as a 30-minute one-to-one tutorial with each tutor during the week.
Evenings are often spent in the company of your group. Tutors will read from their own work on a Tuesday, and lead a sharing of your work at an informal ceilidh on Friday. A guest author usually joins you on Wednesday for dinner, followed by a reading from their work and a Q&A session.
Courses
2404 Songwriting with Kathryn Williams and Dan Willson, Guest Reader Louis Abbott
Mon 22nd Jan - Sat 27th Jan
Fully Booked


Unleash your inner songwriter, find your voice, and connect through music in an immersive week of workshops, co-writing sessions, and inspiring performances for all levels of experience.


Read more and book your place.

2406 Fiction with Ross Raisin and Kim Sherwood, Guest Reader Ron Butlin
Mon 5th Feb - Sat 10th Feb



Navigate the final stretch of your novel-writing journey with expert guidance. Our intensive workshop series will equip you with the tools to overcome hurdles, refine your narrative, and reach the triumphant finish line.


Read more and book your place.

2407 Historical Fiction with Margaret Elphinstone and Vicky MacKenzie, Guest Reader S.I. Martin
Mon 12th Feb - Sat 17th Feb



Uncover the art of crafting vivid historical fiction – from meticulous research to imaginative leaps into the past.


Read more and book your place.