The Moniack Mhor Writers Group, led by Cynthia Rogerson, has been meeting remotely during the Lockdown. They have been writing pieces inspired by the situation. Today's is by Anne-Mary Paterson.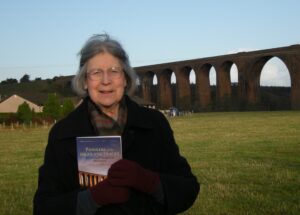 Being on Tele in the Lockdown
Of recent days, I have not done much work writing my book because of all the excitement about my appearance on television. The recording took place at the end of February at the Culloden Viaduct, south of Inverness. It was the final masterpiece by my Great Granduncle Murdoch Paterson, Chief Engineer of the Highland Railway. It is part of the line from Aviemore to Inverness which opened in November 1898. Murdoch died in July 1898, so he was never able to travel on the completed line which entailed many difficult engineering problems.
As my piece was to be on a UK wide channel – Channel 5 – I felt obliged to tell my friends about it otherwise I would get, "If you had told me I would have watched the programme." So, I sent out emails, put a notice on Facebook, LinkedIn and the Society of Authors in Scotland as well as my writing group friends. So the programme The World's Most Scenic Railway Journeys was shown last Friday with a repeat on Monday. Now it is on My5, the catchup website.
After the programme, I had telephone calls from many kind friends and emails, also asking me how I was getting on in the Lockdown. "Did you get very cold standing out in the snow?" Although there was no snow at home, I put on my thermals as I guessed it would be cold. "Did you meet Bill Nighy?" Well no, the commentary is put on after the editing.
I am of course getting on fine in these strange times as I am busy writing my book about private stations and waiting rooms on the Highland Railway. It was lovely to hear from so many friends and some strangers as well who found my email address on my website.
Now I need to settle down with writing my book after all this excitement.
Views/opinions expressed are the author's own and do not represent those of any individual from Moniack Mhor or Moniack Mhor itself. Copyright remains with the author.