In April 2016, Heather Fyson attended a songwriting retreat here at Moniack Mhor, now she has just released her first album. Heather talks here about how her experiences at Moniack Mhor have helped her shape her work.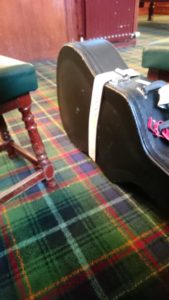 A songwriting week at Moniack Mhor with Karine Polwart & Findlay Napier, Mike Vass & Ben Seal, in April 2016
I was terrified. It started off harmlessly enough, though, talking about lyrics and getting ideas from photographs. Then we got into groups of two or three to write a couple of verses and a chorus according to a certain structure… And we were given 30 minutes to do it in! I live in Germany and the word "Schockstarre" is what came over me. I was the rabbit turned into stone on the road, eyes wide in your car headlights.
After the initial shock, this songwriting week, in April 2016, was a truly inspirational time. Moniack Mhor is located in a beautiful place. Larks sing, Highland Cattle ruminate, clouds gather and disperse, and you have the freedom to find your voice. Our tutors, Karine Polwart & Findlay Napier, were just brilliant at pointing you to new ideas, illustrating why certain songs are good and creating an atmosphere in which you felt borne up by the people around you; uplifted to write.
It was a true shift in time for me. In the past, I had written maybe two or three songs, but always needed some world-shaking event to get me going. The songwriting course at Moniack Mhor taught me how to practice this craft, offering me a whole kit of tools to try out and see which I might like working with best. The constructive atmosphere in the group made it easy to show and discuss work with others (something I'd never done before). Being able to draw on Mike Vass' expertise on arranging songs and adding flavours with different instrumentation and Ben Seal's producing and recording abilities meant that we came home with a CD of our songs. Back home, this CD motivated me to write more. By the summer of 2017, I had a collection of songs, which I have now just released on a CD of m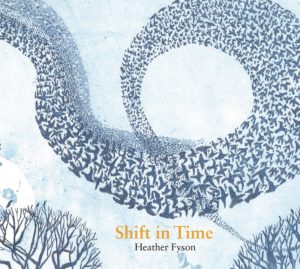 y own.
The songs are about how shifts in time can disquiet but also sway & inspire: birth, parenthood, politics, love, depression – finding the lull to whisper your voice. A whole murmuration of friends and musicians helped me along the way.
Although it's been a long time coming, I would like to say a heartfelt thank you to the Moniack Mhor Creative Writing Centre, Karine Polwart, Findlay Napier, Mike Vass & Ben Seal and all the people on the course (you know who you are!) for such an amazing week. THANK YOU!!
p.s. If you'd like to listen, a small snippet of the song Shift in Time can be found HERE.
The CD itself is available from the music mail order company, http://www.jumpup.de/: If you would like a CD but can't get through the German-speaking website, write to me at www.rosebaycafe.com 
Heather Fyson
Shift in Time
Ufer Records UFR060120181