Creative and Active Lives Programme (2018-2021)
Our Creative and Active Lives programme ran from 2018-2021 specifically to offer a range of opportunities to young people who are care experienced. It was fully funded until 2021 by the generous support of the
Life Changes Trust
.
NEWSFLASH DECEMBER 2020 –
In October 2020, we welcomed our first group of young people back to Moniack Mhor. Here is a short video about our work with the young people, funded by The Life Changes Trust. 2020 was a particularly challenging year for young people and we were delighted that we were able to bring small groups together within the youthwork guidance framework to rebuild social connections within a dynamic and creative environment.
If Streets Could Talk
– In October a small group worked with writer Alan Bissett to articulate what it was like to be a care experienced young Scot in 2020. They then developed their thoughts and ideas into images and spent two days, in the driving rain and wind, with street artist Marc Delaye of Freshpaint to create a striking 10 metre mural. The following week we offered an opportunity to explore Performance Poetry, Rap and Hip-hop. A group of young people worked with Jenny Lindsay, Ross (Butterscotch) Carbarns and Steve Bull to explore techniques or develop existing work in writing and performing. The two events were captured by Paul Campbell who has given staff and young people an opportunity to describe the programme and showcase their work.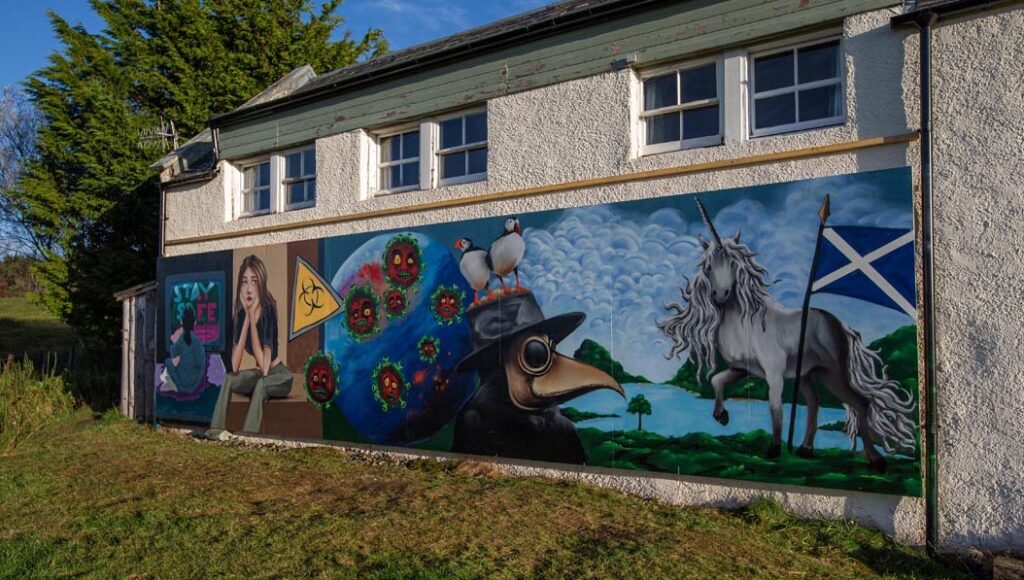 Our thanks go to Alan Bissett, Marc Delaye, Jenny Lindsay, Ross (Butterscotch) Carbarns and Steve Bull. We would also like to thank all the young people for their incredible input and endless energy that they put into these projects.
---
The Creative and Active Lives programme at Moniack Mhor ran from April 2018 until 2021 with the generous support of The Life Changes Trust. The programme offered opportunities to young people from across Scotland who are care experienced to engage with creative opportunities, either at Moniack Mhor or in their own communities. Young people aged between 14 and 26 worked with amazing tutors to try something new, build on existing skills or receive in-depth support and mentoring to develop their talents. Here's an overview of some of our programme highlights: Run in collaboration with
Who Cares? Scotland
,
Journeys in the North
was a recurring part of our programme during the first two years. It started in June 2018 with a workshop at Moniack Mhor. Young people came together to explore their identities in poetry, music and multi-media installation, tutored by poet Jen Hadfield, singer songwriter Boo Hewerdine and visual artist Graeme Roger, with support from sound engineer Steve Bell on production.
"I am genuine. I am awesome. I have courage." 'Going Wild Care Collective', Journeys in the North CD
In October the group returned to transform their writing and music into a CD. They worked with Steve Bull to remix their spoken words, lyrics and music, and with photographer and graphic designer Fraser MacDonald to produce a CD cover and packaging. The end result was a professional CD that showcases their work. You can listen to it online
HERE
.
"I feel through the soles of my feet the paths other creatures have taken." 'Going Wild Care Collective', Journeys in the North CD
The theme of
Identity
was explored further in 2018 in a residential workshop led by writers Kevin MacNeil and Emma Beeby (the first female to write comic strip Judge Dredd for AD2000!). Several young people visited Moniack Mhor for the first time, joining others who'd taken part in the Journeys project. As well as exploring their creative writing skills, they made new friendships and enjoyed the Moniack Mhor experience. In December 2018, we enjoyed a Christmas dinner and planning day with young people at Moniack Mhor. We listened to some great ideas for activities in the coming year, which resulted in us revisiting the theme of photography in April 2019. Two days were spent on our
Photography and Animation workshop
learning from Graeme Roger and animator Rhys Campbell how to take better shots or animations on either digital cameras or smart phones. Jen Hadfield also revisited us early in 2019 to run a two-day workshop
Ways with Words
– helping young women to build on their creative writing skills, either in poetry or prose. Also by request, in April 2019 we went to see songwriting tutor Boo Hewerdine perform with Eddi Reader at the Festival Theatre in Edinburgh. This was a first-time concert experience for some, with the added bonus of meeting up with Boo afterwards. Boo returned to join us all at Moniack Mhor in August with poet and comedian Kate Fox for a three-day residential poetry and songwriting workshop,
Words and Music
.
"I was proud when I wrote a song and a poem inspired by the workshops."
Another partnership with Who Cares? Scotland brought playwright and performer Chris Thorpe to Moniack Mhor for a two-day residential. Chris worked with a group of young people from the Inverness area to develop a piece of participation theatre which has since been used to give a powerful message to social work teams about some of the challenges of being in care. In October 2019, our three-day residential
Making your Words Work
was led by Kevin MacNeil and poet Roseanne Watt. It focused on developing creative writing skills in a range of genres, particularly poetry and fiction. We were very pleased that a group of three came from Orkney and that several 'new faces' engaged with our project.
"I love it here."
Other activities we ran as part of our Creative and Active Lives programme includes working in local secondary schools to offer sessions in poetry, creative writing, street art and animation. Dingwall Academy kindly let students use an interior wall in the school to produce a stunning mural!
We were also able to offer 1 to 1 mentoring and support (including online during the COVID-19 lockdown in 2020). Skills that young people developed through mentoring include fiction, songwriting, hip-hop poetry and graphic design. We hope that this support has allowed them to keep gaining confidence to take their creative interests further.
"I have gained the power to support other young people." 'Going Wild Care Collective', Journeys in the North CD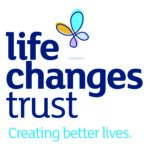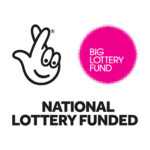 This work is supported with funding from the Life Changes Trust. The Trust is funded by the Big Lottery Fund.