Karen Lean was recently part of our mentoring scheme, where she worked with one of our mentors on a memoir piece she had been writing. Karen is also part of the Moniack Mhor writers group. She has kindly allowed us to share the piece here, which is followed by a piece she wrote previously called 'A Life Unwritten'. We'd like to thank Karen for sharing this. 
Bee Baw Babbity
the wee girl that once was me
             played houses with dead mice
saw a bird of paradise in the garden
The cat bit me in the cheek the day we left Tulliallan for Argyll. He had picked up on the tension and general chaos of a flitting and was too nervy to feel at ease being lifted up by a wee girl: no one blamed him. It took forever to get there. How long to wait before the predictable refrain?
   'Are we nearly there yet?'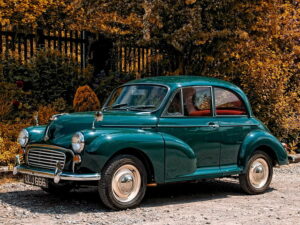 If it was timed right the question could produce the special sweet tin kept in the car for Long Journeys, or more aptly, Tedious Children. A Morris Minor, three of us stuffed in the back, me in the middle getting nipped surreptitiously in the ribs by my two older and invariably contemptuous brothers. Every time I leant forward to peer and chatter excitedly between Mum and Dad, they hotly filled my space the way water rushes in to fill an empty crevice. I had to elbow, wriggle and whine my way back in. If I made too much fuss we all got a row and I'd get nipped more and glowered at more but didn't dare whine more. The cat spent most of the journey draped around Dad's shoulders until we reached the narrow loch side road. It had a roller coaster feel to it – or so I imagined, having never been on one. But at times we did leave our stomachs up in the air as Dad hit the crest of the steepest hills, that Malcom explained were called Yumps and then got huffy at our teasing. He had a face like a thundery day in June, one moment lit bright full of sun: the next, dark storm cloud. The cat was not so keen on the idea of roller coasters or Yumps and began to yowl, as only a Siamese cat can, like a demented baby. When we passed Cladich and Dad began to sing, the cat liked the whole experience even less.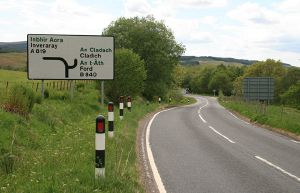 '…Away up in Cladich with Dougal McFaddich, I was as happy as happy can be…..' Dad crooned.
   '…Whaaaaayeeow ..' Cried Busdhu.
It was years before I realised there wasn't a song about Cladich: the original was about Clachan and Dougal McGlachan and Dad had modified the line. He liked to play with words and quote lines of poetry, retell classical tales learnt from his school days; The Rubaiyat, Ithacca, The Lake Isle of Innisfree. He also liked to misquote the latter, ceremoniously rising to his feet he would announce with a facetious flourish 'I will arise and go now and go to Innisfree, but first I will go to the lavatree.'  Some people might turn their nose up at this, but it was amusing to a child and helped form in me a love of words, in all their playfulness and glory.
   Was it raining when we arrived? Probably. It usually was, in that sleekit west coast way, so lightly it was hard to tell until you suddenly realised you were very damp. The air could be filled with moisture and midges in equal quantities, you breathed them in. If you were having a cup of tea outdoors it could take all day to drink, so the saying went.
       the wee girl played with a village- full of children
       thought the painted birds that flew out of the pages of books could fly               
       ran through woods like a horse
      ran through woods to escape
   In one fell swoop I landed in a whole village full of children to play with: transported from a life of talking mainly to adults and playing houses with the dead mice the cat brought me. I made frothy coffee slaistered into being with mud and water and served them as they lay sleekly in their mossy beds.
    My first day at school a big girl that lived in the Keeper's house was given the task of showing me the way. We were off running so fast it felt like my feet never properly touched the ground as I half dangled, legs flailing, from her grip. The road smelt of squashed slugs and frogs and rain. I still get that feeling, of being swept along with no control, no purchase. Wet roads still make me think of moist, amphibian entrails.
    There were two class rooms, with a hinged wooden partition that separated or conjoined the big ones and the wee ones. I was the only girl in primary  4 – Kenneth, John, Ronald, Colin, me. At the beginning of morning playtime we scrambled for the milk that had arrived earlier in big churns. Mrs. Dumfy who took the wee ones poured it into plastic tumblers that were the colour of pale green sea glass, but so soft and malleable it was too tempting to bite the rim. By play time the cream had risen to form a thick layer. It was a race to see who could drink the fastest and get outside, licking and swiping at our creamy moustaches as we went. In the playground we were left to our own devices. I was crowded around.
   'What team do you support?'
   'Team of what?' I didn't understand the question.
   'You're a girl, you support Celtic.' I was told. I wondered why then I'd been asked. We played a complicated game of Tig called Lego, Peevers, Dead Man's Fall, Cow Boys and Indians (the girls were always Indians, which was fine by me except we were never allowed to win). I became happier to play the horse – our anoraks were hauled low on our backs until held on only by the lower arms.
'Giddy up!' a flap of the hood which had become the reins and we were off 'Ya Ya!' My heels were sharp, I bucked and kicked.
---
A Life Unwritten
Was it because it wasn't cooked long enough, or, wasn't worth telling – too pathetically mundane, or, painful to relate, or a hopeless combination of all? What was it?
An excuse?
Told better too many times?
Told by a real victim, one with blood and guts and prison walls scratched on?
Is it a competition then?
No, it's not.
What is it then?
Well, it was kind of a competition, not of life, but of writing.
So, get on with it.
But how can I tell it better than any tale told before?
I know it's how you tell it not what you tell, but the how's and what's are all out there in endless tales and snapshots too. And how do you keep yourself safe in the telling?
If you do not tell your tale are you dismissing a story like yours, as nothing?
Questions, questions, no answers – how could there be?
I reach a deadline, then another. I find deadlines are good for starting things, not finishing them.
I tried to explain to a tired man and we said in unison:
Do you/I have to finish it?
Does it need to be said?
Of course it does.
But how, and why?
Like a dream related that makes no sense I fumble and toil to understand and report.
Maybe the thinking of it is enough.
Maybe some things are better not said.
But, maybe some things are always better said.