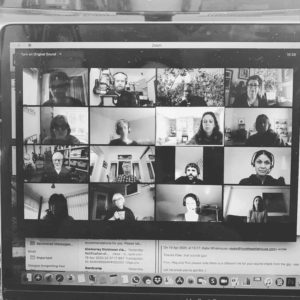 Angela Cran, Moniack Mhor's General Manager, zooms in on the centre's first ever online course
It's Thursday, 23 April 2020, around 4.35pm, and I'm a little late to the songwriting Zoom party. Findlay Napier's daughter is leaning on his knee, a heavy fringe pointing a toy rifle at sixteen of us on her dad's screen. Boo Hewerdine, laid-back in headphones, exudes reassurance in front of an iceberg stack of loo rolls; yesterday, he was rocking a rainbow-coloured bouncy castle.
Course participants Fran and John are luminous against stunning views of Moniack Mhor's Hobbit House while David, spectacularly, is INSIDE it – there's a half-circle of folk on chairs behind him against the limestone walls, and a guy sitting on his right who, sometime in the past, is strumming a guitar. Everyone seems to be doing better than me and Rachel, Moniack Mhor's director; we haven't worked out yet how to customise our virtual background without our heads morphing into translucent blobs.
A dozen songwriters are waiting, expectant, each inside their own box on my lucky-squares laptop grid. Headphones rule. Pearl sips from a wine glass, Jaqs is resplendent in black feathered top hat. Mairi's cooried up in the corner of her sofa. Ed's buzzing and is working at least two large-screen devices. Rachel's juggling snacks for her two bairns in front of the stone wall of her croft living room. The baby's laugh engulfs the screen for a second. I see myself in the blue linen top I wore on last May's holiday in Portugal. It clashes with the yellow wall behind me and the brown checked throw on the sofa where, out of sight today, Koko my mini labradoodle starts to dream of cantering after a tennis ball in the woods. (The reason I'm a little late to the party.)
Here we go. It's time for the Moniack Mhor Online Listening Party, the climax to Boo and Fin's Bird on a Wire week of songwriting. Fin's about to mute us all so we can listen …
It is, of course, also the time of lockdown. The time of coronavirus. Two terrible facts that are shaking the world, and our writing world too.
Along with most arts organisations in the country, Moniack Mhor had to lock its doors to the public in mid-March. Most of our staff have been furloughed for weeks.
We are a residential creative writing centre that runs a year-round programme of taught courses and untutored writing retreats, as well as activities with schools and care experienced young people. Highland hospitality is our hallmark. We thrive on welcoming writers from all over the world, nurturing human interaction, the free exchange of ideas, discussions about writing, tips on how to keep the words coming when life gets in the way. People share their stories around a Hogwarts-sized oak table, feasting on home-cooked tagine. But now, with no possible end in sight anytime soon to social distancing, we simply can't predict when visiting writers will again breathe life into our centre.
However. There's a positive. We are diversifying. This week, with the commitment of our tutors Boo and Fin and the good faith of twelve participants willing to take a chance, we piloted our first ever Moniack Mhor Online course. It's been a multi-platformed wonder of technology and human perseverance, full of tension and release, focus, collaboration and WhatsApp chat messages along the lines of 'Asssssseemmmmbllllleeee'.
Its cyber reach has extended from Cambridge up through London, west to Somerset and across the Bristol Channel to Cardiff, soared up to the Peak District and beyond to Northumberland then up the east coast to Edinburgh and across the deserted M8 to the tutorial hub in Glasgow; diverted north-east to Stonehaven, northwest to sunny Inverness then climbed a thousand feet above Loch Ness to touch base with the Moniack Mhor mothership at Teavarran before zapping all the way north across the Pentland Firth to Orkney.
A studio in Gloucestershire also zoomed into focus on Wednesday afternoon with guest singer-songwriter Emily Barker on guitar and piano. Her voice wowed everyone in an intimate performance that was so authentically 'live' you could hear her piano stool creaking.
And now, here we are. Twelve participants, two tutors, Rachel and myself in the audience from Moniack Mhor, three small children and a sleeping dog – all gathering to listen and celebrate every lyric and soft rhyme and dominant 7th that have been able to be learned and shared and uploaded and mixed and played back this extraordinary week, from north to south and so many places in between.
Fin's sharing his screen and Hiranya's vocal rises. Jaqs raises her glass, a smile and a tear in her eye. Heads move silently in time to the beat. We're all apart, but we're together online and we're listening. And it's sensational.