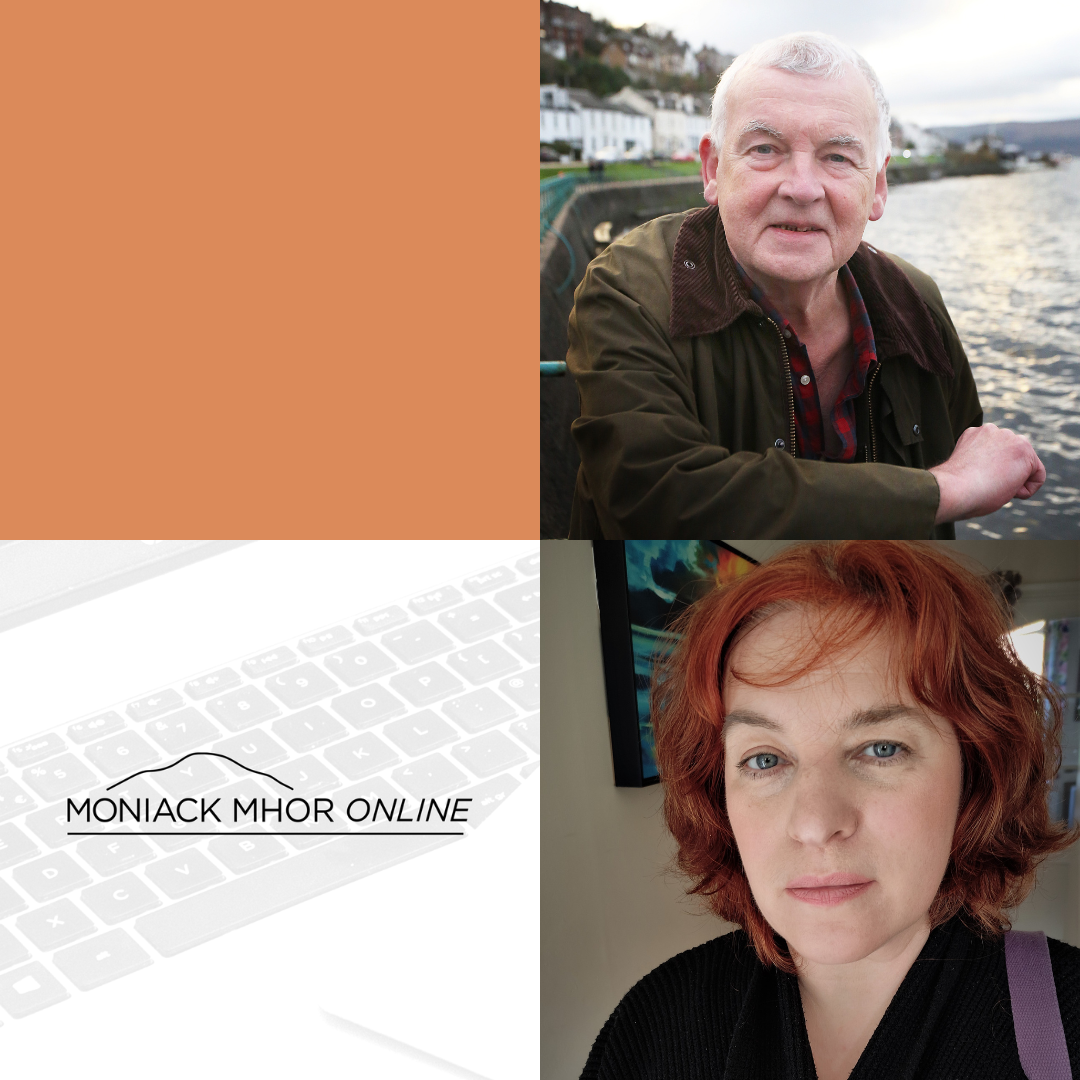 Date/Time
Date(s) - Wed 6th Sep - Thu 28th Sep, 2023
7:00pm - 9:00pm
Location
Online, Moniack Mhor Hosting, via Zoom,
Telling real stories in imagined worlds
Join award-winning science-fiction writer Ken MacLeod online for a month as part of a group of 12 participants writing science fiction. As part of this course, you will also be invited to attend an online Guest Reader event with sci-fi writer, Justina Robson.
If you read (or watch) science fiction you may want to write it – but where do you start, and how do you bring your story or novel to publication? Science fiction has challenges, techniques, and requirements all its own. In this course we'll see how to bring your ideas to the page, your worlds and characters to life, and your story to print.
Moniack in a Month – Writing Science Fiction includes:
A short introductory welcome session
Four stimulating online workshops
One-to-one tutorials
A Guest Reader event
A final Ceilidh session – sharing of work
Contact and support from a community of writers via Google Classroom
Support from a Moniack Mhor host
Ken's science-fiction workshops will focus on the following:
Workshop 1: Where do you get your ideas from?
Our world is changing all the time. We find ourselves asking: 'What if –?' When these thoughts turn into stories, they're science fiction! How do we catch these fleeting thoughts, and build from them strange new worlds that readers can believe could really happen? Reading, research, real life, and a pocket notebook.
Workshop 2: 'As you know, Professor …'
Today we're going to look at how you recreate the world you've built in the mind of the reader. All fiction includes elements of scene-setting and exposition. Science fiction has a particular challenge because the world of the story is not the world the reader inhabits. How do we get this across in an engaging way?
Workshop 3: Conflict builds character!
Unlike mainstream literary fiction, SF is not primarily concerned with the exploration of character. But characters remain all-important. Characters, and their conflicts, drive plots. We take a deep dive into what makes people tick – even when they're not always people as we know them – and what makes their stories gripping.
Workshop 4: Is anyone out there?
In the Golden Age of Science Fiction, giant editors roamed the Earth. Now we live in the Age of Mammals. Editors get sent their weight in manuscripts every day. The only person who is going to lick your draft into shape is you. Today we look at how to do that, and where to send your story when it's finally fit to be seen. And then – we look at where to go next.
Guest Reader Event
In an hour-long event that will also be open to the public, sci-fi writer Justina Robson will read from her work and be in conversation with Ken MacLeod and our online audience.
Timetable
Week 1    Wednesday 6 September    6.30-9.00pm    Welcome session and Workshop 1
Week 2    Wednesday 13 September  7.00-9.00pm    Workshop 2
Week 2    Thursday 14 September      8.00-9.00pm    Guest Reader event
Week 3    Wednesday 20 September  7.00-9.00pm    Workshop 3
Week 4    Wednesday 27 September  7.00-9.00pm    Workshop 4
Week 4    Thursday 28 September      7.00-9.00pm    Ceilidh
Your one-to-one tutorial with Ken will be scheduled when the course starts.
Tutor
Ken MacLeod was born in Stornoway, Isle of Lewis, Scotland and lives in Inverclyde. He has Honours and Masters degrees in biological subjects and worked for some years in the IT industry. Since 1997 he has been a full-time writer. He is the author of nineteen novels, from The Star Fraction (1995) to Beyond the Reach of Earth (Orbit, 2023), and many articles and short stories. His novels and stories have received three British Science Fiction Association (BSFA) awards and three Prometheus Awards, and several have been shortlisted for the Clarke and Hugo Awards.
In 2009 he was a Writer in Residence at the ESRC Genomics Policy and Research Forum at Edinburgh University, and in 2013 and 2014 was Writer in Residence at the MA Creative Writing course at Edinburgh Napier University. He has taught science fiction writing at Arvon (2001), Moniack Mhor (2016), and Clarion West (2018).
Guest Reader
Justina Robson is the award-winning author of several novels, novellas and short stories. Most of her books and stories are science fiction, dealing in particular with AI, transhumanism, genetic engineering, nanotech and human evolution. They focus on the adaptation of human beings to new technology.
Justina is a graduate of the commercial SF writers' workshop 'Clarion West' in the USA (1996). In 2005 she was a judge for the Arthur C Clarke Award on behalf of the Science Fiction Foundation. In 2011 she was the Guest of Honour at the World Science Fiction Convention in Perth, Australia.  
In addition to her original works Justina also wrote Transformers: The Covenant of Primus (2013), the official history of the Transformers in the Prime Continuum.  She lives in Yorkshire.
Fees
The full fee for this online course is £325.  A deposit of £100 is required to secure your place, which is non-refundable after a 14-day cooling-off period. The balance payment of £225 is due four weeks before the course begins.
All workshops include a short break. Moniack Mhor staff will be on hand to support you during your course. 
For more information please email online@moniackmhor.org.uk.
Bookings
This course is now fully booked. Please contact us on info@moniackmhor.org.uk or 01463 741 675 to be added to the waiting list.