Frequently Asked Questions
Here are the answers to some of your most frequently asked questions. Please have a read before coming to stay with us.
Do I need to bring my own towels?
No, towels are provided. We would ask though, that if you plan to do some wild swimming that you use your own towel.
Do you have a hairdryer?
Yes, we have a couple of hairdryers you can use.
I'm worried about having to cook, as I'm not good in the kitchen. How are the evening meals arranged?
Everyone takes a turn at cooking and washing up. We split the group into teams across four nights, as staff prepare the welcome meal. Staff meet with the cooking team and walk them through the recipes, kitchen appliances, and timings. The ingredients are already laid out when we meet with you, and we start you off. The recipes are delicious, and easy to follow.
Do you have mobile reception and Wi-Fi?
Mobile reception depends entirely on your network, but the main providers (Vodafone, BT / o2 etc.) are usually fine. There is Wi-Fi available throughout the premises, but due to our location (and the variable weather) we unfortunately cannot guarantee a strong connection.
Do you have books available for sale on tutored courses?
We have a small bookshop on the premises, and whenever possible we will have books for sale by that weeks' tutors and guest readers. Please note, however, that it is limited stock, and we encourage participants to explore the author's work ahead of the course.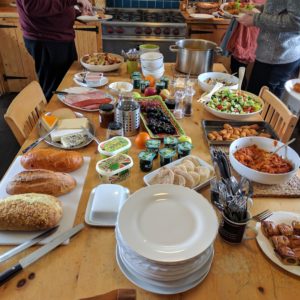 I have a very specific allergy / dietary requirement / preference with regards to food. Are you able to cater for me?
Absolutely. We are well versed with catering to specific needs. Please let us know in advance of any allergy or dietary concerns and requirements, and we will do our very best to accommodate you. If there is something we're unsure about, we'll get in touch with you to find out more ahead of the course starting.
Do staff live on-site?
No. We'd only be taking up room! But most of us live very close by, and our work mobile numbers are displayed in the kitchen for any out-of-hours queries.
Is there a shop nearby?
The nearest shop (and cash machine) is in Beauly, around 8 miles away. Staff usually go several times a week, and take requests if you need something. We also have a small supply of toiletries in our office in case anyone forgets to bring anything. Toothbrushes, in most cases.
Is there a car park?
Yes, a short walk from the main building.
Are you on a bus route?
Sadly not. The nearest stop for buses and some trains is Beauly, around 8 miles away.
I'm not sure which course would best suit me.
Have a read at our How to Choose a Course page for more information.
Can I stay the night before / after the course starting?
As you can imagine, we have a multitude of preparations to make before the course, so staying an additional night beforehand isn't possible. Likewise, for a night following the course, there are no staff on the premises and our cleaners are usually in. Courses start at around 5 pm on the Monday to give folks a day to travel.
Can I stay at the centre when there isn't a course on?
No. Even on the rare occasion we have no course on, there is always something going on at the centre, so we cannot let rooms singly.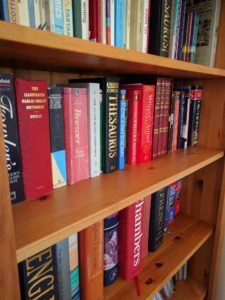 Can I come non-residential, and will that be cheaper?
No. For residential courses, the group size is kept to a maximum of 14 students, which allows everyone equal time with the tutors, etc. If you are interested in attending a non-residential course, please get in touch, as this is something that could be planned for the future if we receive high enough demand.
What time should I book my return travel for on the Saturday?
Our recommended departure time is 10am on the Saturday, as staff are only on the premises until lunchtime. We will organise taxis on the Friday, for those that require them.
Is there a computer / printer I can use?
We have 3 laptops available for students to take up to rooms, but feel free to bring your own. There is a printer/copier situated in the main room, which can be accessed over Wi-Fi.
How do I pay my balance? And will you remind me when it is due?
You can pay the remaining balance of your course fees in several ways:
• Through our website.
• A bank transfer through BACS – please drop us an email and we can give you our details: info@moniackmhor.org.uk
• A cheque made out to Moniack Mhor Ltd and sent in the post.
• A simple call to our office: 01463 741675
Can I bring my partner / dog / cat / parrot?
Unfortunately not, as again we simply don't have the space. Guide dogs are, of course, most welcome.
Do you have disabled access?
Yes. The kitchen, two bedrooms, and communal spaces, as well as a wheelchair accessible wet room are situated downstairs. There is a hearing loop in the main house, and guide dogs are welcome. We can also provide mobility equipment, and course materials in braille if needed. For further information about our accessibility, please visit our listing on Euan's Guide.