Our young writers have been participating in online workshops #wordsonwednesdays during lockdown. We asked if they'd be happy for us to share some of their responses to tasks set by the workshop leaders. Here is the next in the series, by Gary MacLennan, inspired by exercises set by John Glenday. We hope you enjoy it.
The Swimmer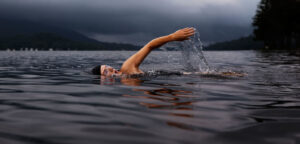 He had swum twelve miles already and wasn't planning on stopping anytime soon. He reminded himself why he was doing it – swim fifteen miles for a charity they said, it would be fun they said. If it wasn't for the charity, he would have finished a long time ago. He thought about his next book, trying to plan out while swimming. This would be his fifth novel and he wanted to do something different than the usual detective stories he wrote. He had wanted to do sci-fi for a while now – exploring the stars and planets – but was worried about upsetting the status quo.
He was concerned with his inexperience in the subject.
He glanced over to the two fishermen at the other side of the lake. They were inexperienced when they began fishing but look at them know. Why would it be different for him? He kept swimming like his life depended on it – as if he was a hog, drowning in the lake. He was growing tired but was unable to stop, the charity official silently commanding him to keep going, just to make sure the charity was getting their money worth. Thirteen miles down now, two more to go. A couple of kids who were fishing at the nearby creek were walking home and decided to watch him, their hands coiled around their fishing rods like snakes on a stick. In the distance, they laughed. In his own bubble, he took no notice.