The Moniack Mhor Writers Group, led by author Cynthia Rogerson, still continue to meet remotely during 2021 while COVID-19 restrictions are ongoing. We are delighted to share these two poems by group member, Sheila Lockhart, who also provided the featured photograph.
Things I didn't know I loved
after Nazim Hikmet
it's 2021 January 4th
I'm sitting in my study looking out
at grey skies snow lies in dull
treacherous lumps on the lawn
I didn't know
I hated snow so much
another month of lockdown looms
no evenings out no meeting friends
just staying home I think of Homs
people trapped
with only grass to eat because
they've eaten all the dogs and cats
and I'm ashamed
I didn't know
I hated home so much
there's a photo of my brother on the desk
I never thought
I'd feel relieved he didn't have to live
through this
we're sitting on a bench
beside the estuary his arm round me
huge stomach funny specs
his unwashed smell
and skylarks which I used to hear
are certainly singing
I didn't know
I missed skylarks so much
I lie becalmed beside salt marsh
lapped to sleep by a rustle of reeds
I never knew
I loved reed-beds so much
my father passed away here
in his sleep after a lunchtime
pint in the Plough and Sail
I wish for a quiet death like his
though I never did appreciate
the taste of beer
at the crematorium I held
my brother's hand
as if we both were kids
the snow's grey as ash
crabapples Christmas crimson
cling to their fragile tree
I never knew
I loved the colour red so much
Sheila Lockhart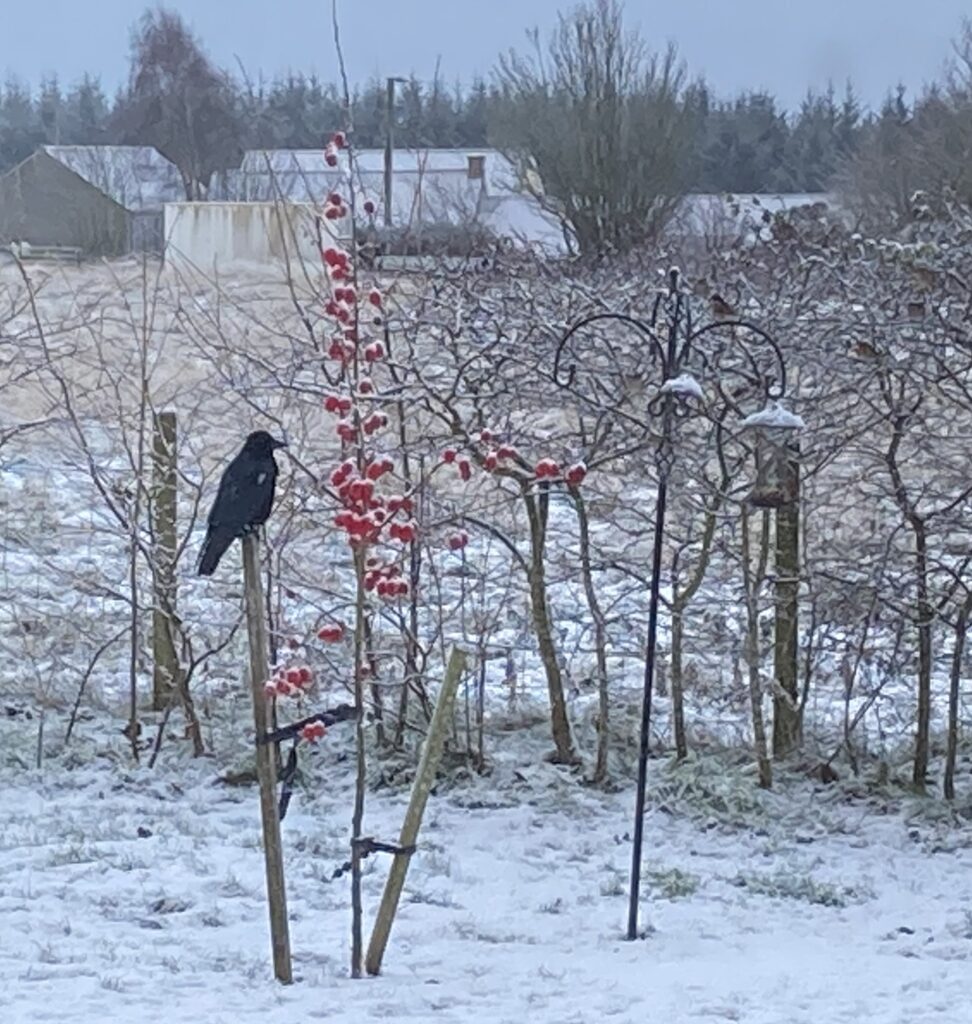 Sheila's next poem is a cento – she informs that means a poem made up entirely of lines quoted from other people's poems. Sheila suggests it's a great exercise to do if you're lacking inspiration; but, as here, it's always important to include the coda, to avoid any accusation of plagiarism!
Dead of Winter – A Cento
Of whom shall we speak? For every day they die.
I have had many loves, and seek no more
and yet you will weep and know why
seen by this trembling flame, the years are in disorder,
sinking like sediment through the day.
One need not be a chamber to be haunted.
He disappeared in the dead of winter,
cloudburst and steady downpour for days,
his five wits systematically deranged.
It was late, late in the evening –
how it came to an end!
He could not die when the trees were green.
Still Time may hold some golden space.
Let us summon what real love there was.
I'll think of Love in books, Love without end,
one after one, like tasting a sweet food,
our hearts turning like fish in the green wave
before going, traceless, where the dead go.
Coda:
W.H. Auden, 'In Memory of Sigmund Freud'
John Clare, 'The Exile'
Gerard Manley Hopkins, 'Spring and Fall'
Ron Butlin, 'Poem for my Father'
Philip Larkin, 'Sinking like sediment through the day'
Emily Dickinson, 'LXIX'
W.H. Auden, 'In Memory of W.B. Yeats'
Seamus Heaney, 'Gifts of Rain'
W.H. Auden, 'Rimbaud'
W.H. Auden, 'As I Walked Out One Evening'
Thomas Hardy, 'The Coming of the End'
John Clare, 'The Dying Child'
Rupert Brooke, 'The Treasure'
Ron Butlin, 'A Gentle Demolition'
Rupert Brooke, 'The Busy Heart'
Rupert Brooke, 'The Busy Heart'
Philip Larkin, 'And the wave sings because it is moving'
Patrick McGuinness, 'A History of Doing Nothing'
---
Views/opinions expressed are the author's own and do not represent those of any individual from Moniack Mhor or Moniack Mhor itself. Copyright remains with the author/s