Now Closed
Established in 2015, the Emerging Writer Award (formerly the Bridge Award) is now in its fourth year, and is run by Moniack Mhor in partnership with The Bridge Awards, a philanthropic venture that has helped to fund theatre and visual arts projects.
The award winner receives a tailor-made package worth up to £2,000 including tuition via open courses, retreat time and/or mentoring.
Eligibility
The Emerging Writer Award is open to unpublished prose writers (fiction) living and working in the UK with a collection of short stories or novel in development. Writers can be writing for any age group (including children and young adults) and may have had excerpts or articles published in the past, but will have not yet published a major body of work. Poetry, Playwriting, Screenwriting and works of non-fiction are all ineligible.
Application
Please apply by sending one document, in Microsoft Word format which includes:
Your CV (no more the three sides of A4)
A summary outlining your work in progress (no more than one side of A4)
A 2000 word sample of your work
The deadline for applications is 5pm on Friday 3rd January, 2020.
Preferably, applications should be sent by email to awards@moniackmhor.org.ukwith the subject line: Emerging Writer Award. Applications can also be submitted  by post to Moniack Mhor  Creative Writing Centree, Teavarran, Kiltarlity, Inverness-shire IV4 7HT.
For any enquiries relating to the Emerging Writer Award, please contact Eilidh Smith, Programme Manager on eilidh@moniackmhor.org.uk  or telephone 01463 741 675.
To download The Emerging Writer Award 2020 information sheet, please click Emerging Writer Award 2020 – Information Sheet
Please note that due to the large number of applications to this Award, the judging process can take four to six months. We do let all applicants know the outcome of their submission, but are unable, unfortunately, to give detailed feedback.
---
Winner of the Emerging Writer Award 2019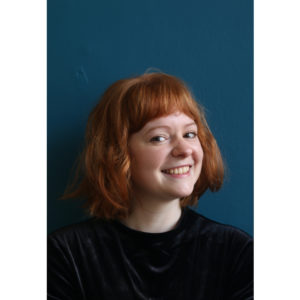 We're pleased to announce the Winner of the Emerging Writer Award 2019 is Hannah Kelly, a Writer and Artist living in Edinburgh. She leads a small youth work charity on the outskirts of Edinburgh and teaches art at the National Galleries of Scotland. Her pen and ink illustrations have been exhibited locally and published in the UK and abroad. But mostly, she writes.
In 2018 she was shortlisted for the Brighton Prize for Short Fiction and the JuxtaProse Literary Magazine International Short Story Competition. In 2017 she was selected to read one of her short stories at the Edinburgh International Book Festival as part of the StoryShop showcase for new writers.
"The support and advocacy of Moniack Mhor is such an encouragement to me and my work in progress," commented Hannah. "But really, that's a very mature way of saying that I danced around my living room for twenty minutes after they phoned me. I write to explore and ask questions. My stories are often a 'stretching out,' of the things in the world that are already slightly improbable or strange. Synaesthesia. Instagram filters. The nature of morality in a post-truth society. My fiction is a place where I can bring those ideas out, illuminate them beneath different lights and look for fresh perspectives.
The judges identified the following four writers as Shortlisted for the Emerging Writer Award 2019 :-
Sharon Jennings
Sukh Brar
Jeda Pearl Lewis
Susan Elsley
Shola von Reynolds
You can read about the previous winners of the award on this page.